GUAN ENG TAKES 'EMERGENCY' ACTION AS FLASH FLOODS HIT PENANG AGAIN: ZAHID AGREES TO SEND IN ARMY TO HELP EVACUATE AFFECTED AREAS
BUTTERWORTH: Several parts of Penang have suffered flash floods following a downpour while a man died when a tree crushed the house he was in at Kampung Perlis.
Among the worst hit places on the mainland are Sungai Permatang Rawa and residential areas in Prai, Butterworth, and Bukit Mertajam. On the island, Cintra Street, Chulia Street, Church Street and Kimberly Street were flooded as drains overflowed.
Many residents had to be ferried from their homes in Jalan P. Ramlee and Jalan Terengganu by rescue personnel after flood waters reached waist level at about 6pm.
Several minor landslides were reported in Balik Pulau, Minden Heights, Hong Seng Estate and Paya Terubong; 13 people had to be evacuated.
Housewife Zanariah Baharom, 44, who lives in Sungai Permatang Rawa, said the area has been flooding for more than 10 years, but yesterday's is the worst.
"The water damaged the entire kitchen of my home," she said, adding that the family hopes the state's flood mitigation efforts will end the problem.
Factory worker Muhammad Azuan, 41, said he was at work when the floods hit at around 3pm.
"It floods about 10 times a year and each time, the kitchen and ground floor bathroom are affected," he said.
Penanti assemblyman Dr Norlela Ariffin said the areas in Guar Jering and Guar Perahu are the worst hit.
"Thousands of villagers have been told to prepare for evacuation and we have deployed volunteers to assist," she said.
"The floods are a warning that hillside clearing must be controlled."
On the island, homes in Kampung Masjid, Kampung Makam, Kampung Dodol, Jalan Langkawi and Jalan Perak in Jelutong are badly affected.
Flash floods and minor landslides occurred in Sungai Pinang and Sungai Korok in Balik Pulau, where 90 people were moved out, while water levels went over one metre in Bukit Titi, Sungai Pinang and Jalan Besar.
Penang Island City Council workers were seen clearing fallen trees and broken branches along roads in Balik Pulau and Relau in the rain.
No casualties or deaths due to the floods have been reported.
A photograph posted by the council on Facebook shows a man standing on his car bonnet in Relau after the vehicle stalled in floodwaters.
At the Penang International Airport, its senior manager Ramzi Ahmad confirmed that the bad weather affected the landing of four flights.
The planes had to be diverted to Langkawi or told to return to Kuala Lumpur.
The downpour is expected to continue until today and the state meteorological department has issued an orange alert for persistent heavy rain.
MEANWHILE, according to Malaysiakini: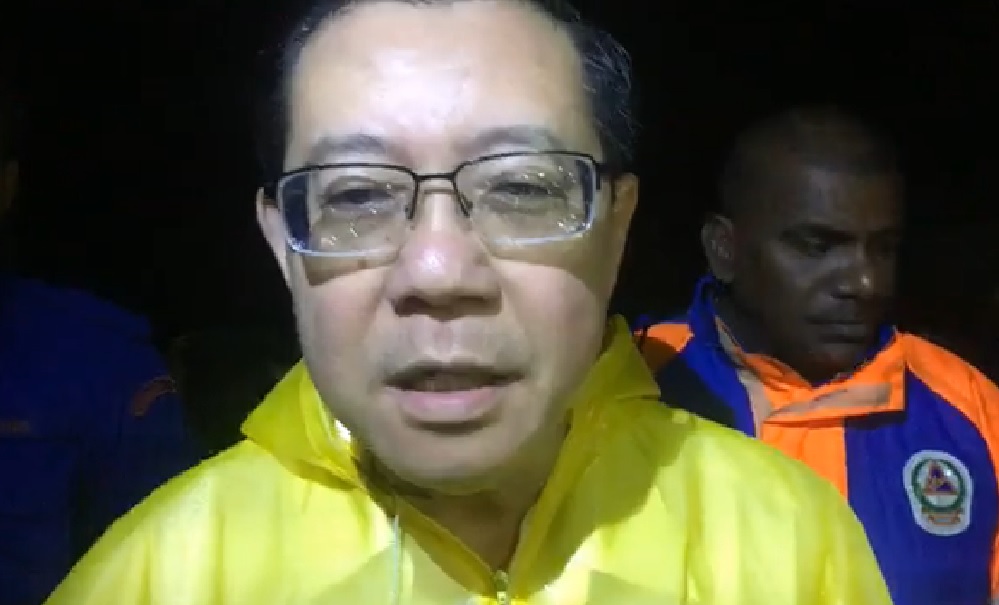 Guan Eng reaches out to DPM for army's help over severe Penang floods
Penang Chief Minister Lim Guan Eng reached out to Deputy Prime Minister Ahmad Zahid Hamidi for the army's help after his state was hit by severe floodings.
Lim said he made the phone call to Zahid at 3.30am today to help with the floods.
"The heavy rain continues to hit Penang, I have successfully contacted him, and he has promised to send the army to help save Penang.
"I thank him for answering my call at 3.30am," Lim said during his visit to the Bagan relief centre in Seberang Perai, which was without electricity.
Lim described what Penang was experiencing as unprecedented.
"Tonight we saw a disaster that had never happened in Penang whereby 80 percent of the state was hit by typhoon-like winds and unrelenting rain," he said.
Hours before the heavy rainfall, Typhoon Damrey made landfall in Vietnam, killing at least 19 people. The category 2 typhoon had since weakened to a tropical storm.
Concurrently, the Pacific Disaster Center and typhoon tracking portal cycloane.com reported the formation of a tropical disturbance over the Malaysian peninsula which is referred to as "invest 95W".
The tropical disturbance is unlikely to develop into a tropical storm but will cause erratic weather.
"The disturbance remains quasi-stationary and is positioned over the Malay peninsula," said a report by cycloane.com.
Penang saw flooding since yesterday evening as strong winds lashed across the island and mainland, uprooting trees and causing massive traffic jams.
The Malaysian Meteorological Department last night issued a heavy rain warning with Penang and parts of Kedah receiving a "red" notice.
These areas are expected to receive sustained and very heavy rains.
Other affected areas are parts of Perlis, Perak, Kelantan and Terengganu but are less severe.
State executive councillor Phee Boon, who was also at the Bagan relief centre, said one death had been reported.
"It is a Bangladeshi who was killed by a fallen tree in Bagan Dalam," Phee told Malaysiakini, when contacted.
"Heavy rain and strong winds are coming in waves, and people are still coming to our relief centres,
"So far six areas have been hit by floods, and 300 homes affected," added the Sungai Dua assemblyperson.
Strong winds caused trees to be uprooted in Tanjung Bungah and Taman Tun Sardon in Bukit Gelugor, where the Penang Island City Council workers have cleared the debris.
Many vehicles were also stalled in water including along Jalan P Ramlee and in Bayan Baru. Several areas also experienced blackouts.
The public has been advised to stay home as strong winds and heavy rains are expected to continue until Sunday.
ANN / MKINI
.