GOOD RIDDANCE NAJIB & ROSMAH: AS CALLS FOR CHANGE RING OUT, MALAYSIANS ARE OPTIMISTIC THAT 2018 WILL BE A GREAT YEAR
KUALA LUMPUR – Malaysian optimists plan to use the 365 days available in 2018 to achieve the personal goals they have set for themselves.
The "positive energy" is visible, as even under the light rain that is affecting Kuala Lumpur, people persist in going out and celebrating New Year's Eve.
Muzamer Ibrahim, 32, plans to lose weight and live a healthier lifestyle in 2018. Currently weighing 130kg and an ardent smoker, he believes that 2018 will be his year to brush aside his bad habits.
"I already started jogging since last October, and I feel good for being able to break a sweat. I think I would continue doing this, and my target is that my weight can go as down as 80kg before 2018 ends.
"I also has cut down on my smoking habit. Hopefully, I can quit once and for all, because the cigarette price has surely put a hole in my pocket," he said.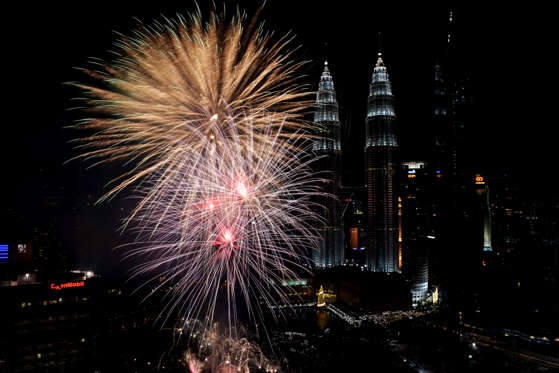 Meanwhile, Daniel Wai, 27, said he's hoping to make more money and marrying the love of his life in 2018.
Daniel, who is an engineer at GLC's, said the nation's economy is on the right track and predicts that he can achieve the income that he desires by the second quarter of 2018.
"I'm getting married in October 2018, therefore I need to save a lot of money for the reception, honeymoon, as well as buying a house.
"My appraisal at the office turns out to be good and I can feel that 2018 would be a good year for me," he added.
ACCORDING to Malaysiakini:
Hundreds of protesters took to the streets on New Year's Eve in the "Turun Minyak Turun Najib" rally tonight.
Gathering at the Sogo Shopping Complex in Kuala Lumpur as early as 9pm, the crowd began to march towards Dataran Merdeka two hours later.
A small argument broke out as soon as the crowd began to march as the Dangi Wangi OCPD Shaharudin Abdullah (photo), who was on the ground to observe the protest, demanded that organisers comply with the agreed terms.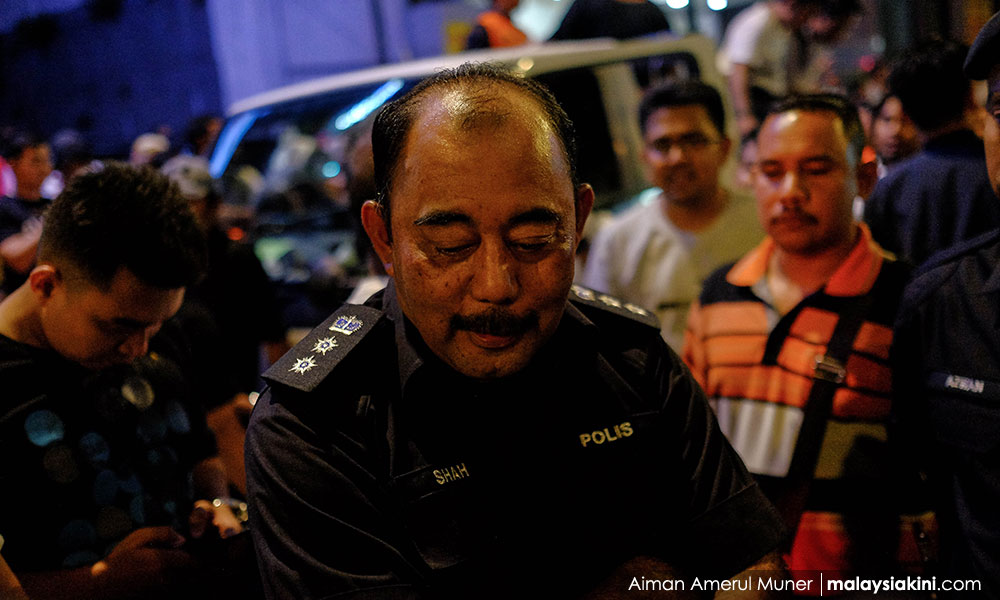 "Stop the kompangs, they are not allowed," he shouted at organisers over the noisy crowd chanting "Turun turun".
He also asked organisers not to use loudspeaker and that the crowd do not obstruct traffic as they marched.
The spirited crowd, estimated at around 500 people, lined the street as a police vehicle followed from behind.
Engaged in a carnival-like atmosphere, the crowd sang and also chanted "Turun Najib, hancur Umno" as well as "Mansuh GST, Turun minyak".
One of the rally participant Ling Sing Yee said he was present to remind the government that people wee unhappy.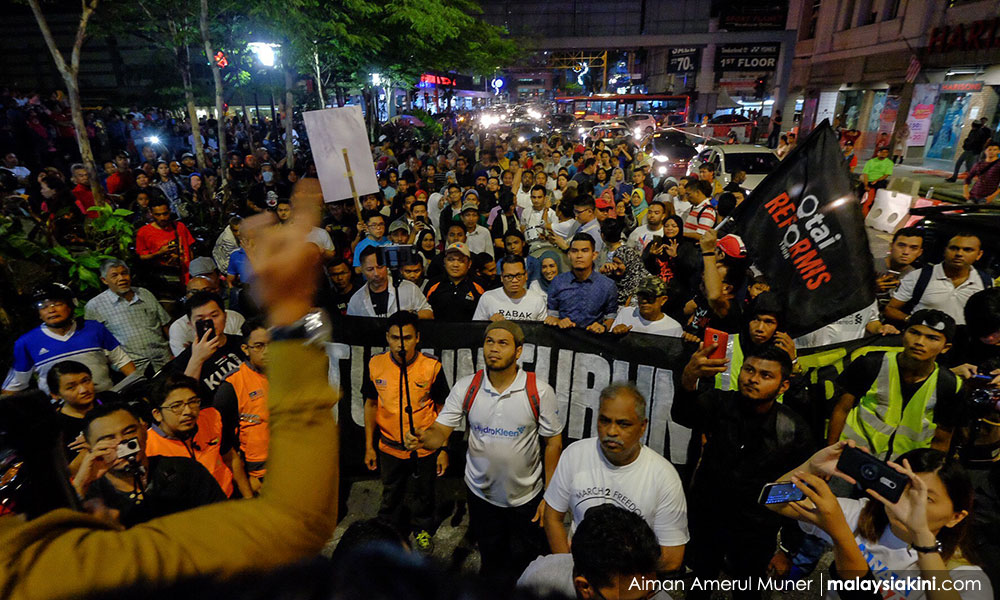 "Someone has to do this. If not, the government will think that it is in the right," he said.
However, he conceded that the Turun rally tonight had a smaller crowd and attributed it to political fatigue.
"People were disappointed and tired after the 13th general election but I feel that we are able, we still need to come out," said the 34-year-old who works in the food and beverages industry.
Some 10,000 people had participated in the Turun rally held on New Year's Eve in 2013.
Meanwhile, Suaram coordinator Amir Abd Hadi believed some 1,000 people were present today.
He said this exceeded the organisers' expectations of between 300 to 500 people.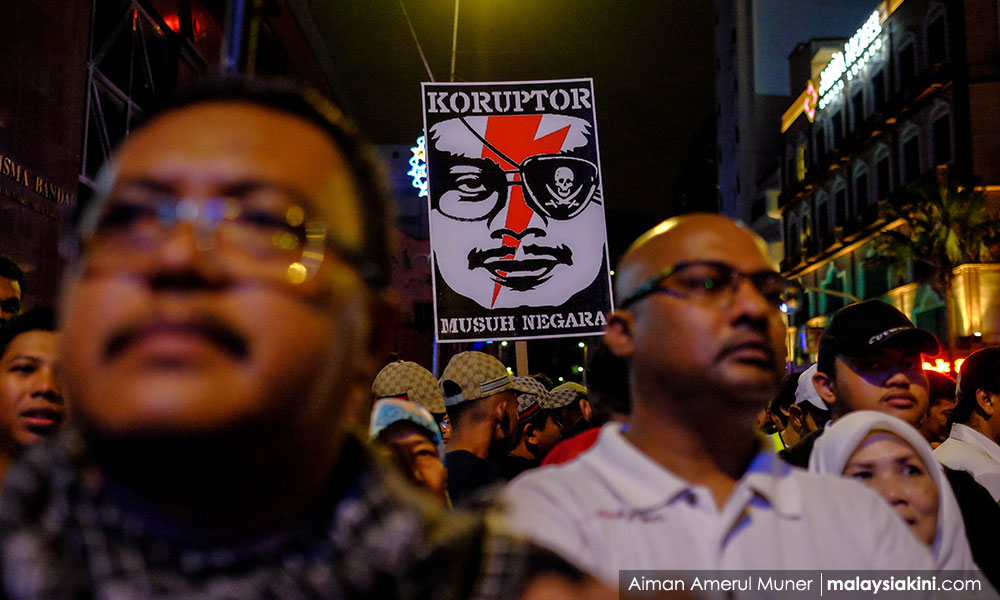 "In 2014 (New Year's Eve 2013), there was 10,000 but the crowd is smaller due to people's mood.
"In my personal opinion, it could be due to the continuous conflict, be it within the government or opposition political parties, which had caused people to become disenchanted," he said.
He said the opposition must avoid conflict in the few months left to the general election and focus its efforts on the people.
Arguments with police
Halfway through the march, police stopped the crowd at around 200m away from Dataran Merdeka, pointing out that they were not complying with the terms set for the rally.
One of the organisers, Syukri Ab Razab negotiated with the police, insisting that the rule that they cannot use a loud hailer was unreasonable.
Members of the public were also gathered at Dataran Merdeka for the New Year's countdown.
By 11.30pm, Shaharuddin gave the crowd an ultimatum, asking that they disperse within 15 minutes.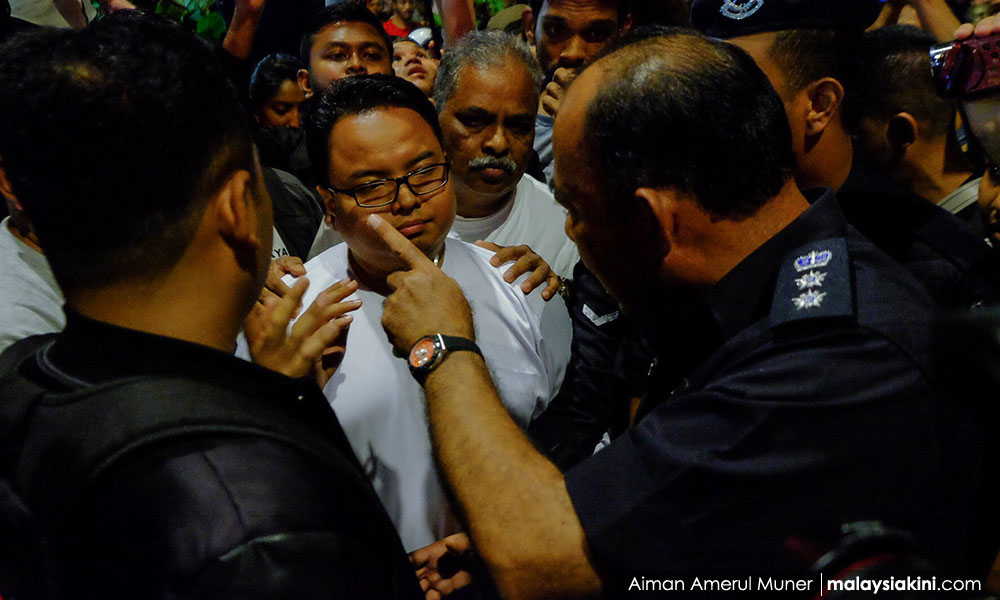 "You want to shout or do whatever, you have 15 minutes," he told Syukri who had likened a protest without loud hailers and drums to eating plain rice without side dishes.
The organisers relented, asking the crowd to disperse at 11.45pm.
However, a small group moved up the street and sat in a circle as they continued to sing and play their drums while waiting for the clock to strike midnight.
This prompted Shaharuddin to threaten to summon the riot police.
Shortly after midnight, a Light Strike Force unit was seen at the scene but there were no arrests made.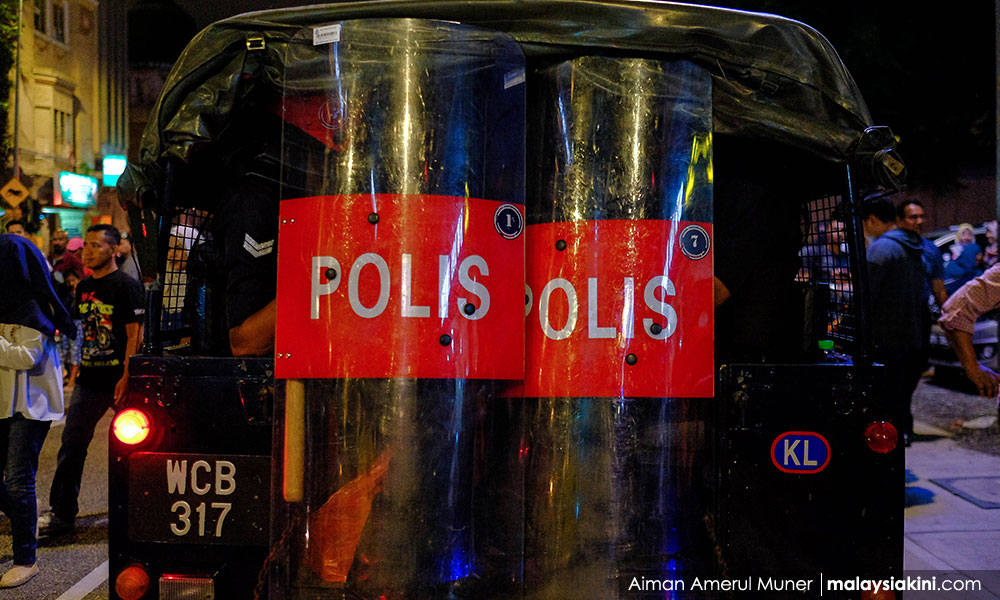 When met, Shaharuddin told reporters that police would be investigating the organisers for going against the provisions of the Peaceful Assembly Act 2012.
"I have been amenable (tolak ansur) with them. They promised me it would be a peaceful assembly.
"They did not mention about loudspeakers, speeches and all these," he said, adding that police had done its part to facilitate the protest.
Amanah youth chief Sany Hamzan, who was part of the organising committee, later said there were no specific promises made to the police except that it would be a peaceful assembly.
"On the part of the organisers, we have kept our promise that it would be a peaceful protest.
"So we hope that the police would be more rational," he said.
He added that they were ready to assist investigations.
– http://www.thesundaily.my  / Mkini
.