GO AHEAD NAJIB – YOU DIG OUT DIRT, I ALSO WILL DIG OUT DIRT: MAHATHIR WARNS 'PD, ALTANTUYA, 1MDB' NAJIB AFTER ATTACK ON HIS GRANDDAUGHTERS
DR Mahathir Mohamad today dismissed articles on his granddaughter's lavish lifestyle, which was splashed on the front pages of two pro-Umno newspapers, saying it was another attempt to divert people's attention from the real issues.
"In politics, demonising people will always be their strategy," the Pakatan Harapan chairman said at a press conference at the Parliament lobby today.
"The whole idea is how to divert attention from 1MDB (1Malaysia Development Berhad) and the RM2.6 billion (donation allegedly given to Prime Minister Najib Razak by the Saudi royal family).
"So, you can go and find all kinds of dirt, (and) dig it up. I can also find a lot of dirt but I have to dig it out." 
Over the weekend, Utusan's Sunday edition, Mingguan Malaysia and and Berita Harian published reports on Meera Alyana Mukhriz's celebrity lifestyle, accompanied by pictures of her wearing designer clothes and travelling around the world on a luxury yacht.
The newspapers based the article on a Facebook posting by a user called "Sudahlah Mahathir".
The pro-Umno newspapers said Meera, better known as Ally, travelled around the world in a yacht named after her. Utusan claimed the vessel was a gift from her father.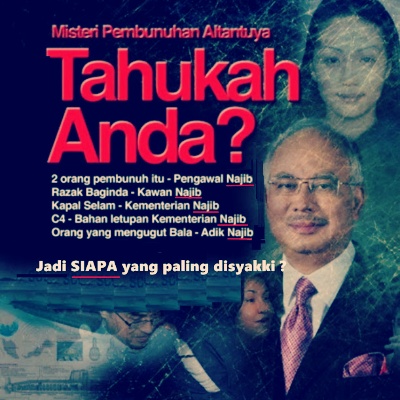 In response to the articles, Meera's father, Mukhriz Mahathir said journalism ethics in the country had plumbed new depths with personal posts becoming fodder for news.
Mukhriz, who was former Kedah menteri besar, said the report should not have been published as there was no correlation between the pictures and illicit funds or 1MDB.
https://i2.wp.com/malaysia-bodoh.com/wp-content/uploads/2017/06/Najib+Altantuya+Isa+Samad+01.jpg?resize=400%2C191&ssl=1
Marina Mahathir also criticised the articles, saying it was an act of desperationfrom the ruling coalition to divert attention from the 1MDB scandal.
Dr Mahathir is the most vocal critic of the Najib administration, accusing the prime minister of stealing billions of ringgit from the country's coffers.
– https://www.themalaysianinsight.com
.