GIVE IT UP AZMIN: DR M & AZIZAH VOTED IN BY HARAPAN LEADERS FAIR & SQUARE – AZMIN RECEIVED THE MOST NOMINATIONS FROM YOUTH WINGS, WHICH IN THE END STILL FOR VOTED DR M INSTEAD
Pakatan Harapan Youth had considered PKR deputy president Mohamed Azmin Ali as one of the potential prime ministerial candidates before settling for Bersatu chairperson Dr Mahathir Mohamad as the coalition's official choice.
Sources told Malaysiakini that the youth wings had gathered at Wisma DAP in Kuala Lumpur last Thursday and were told to nominate two names.
During the nomination process, Azmin came out on top with 12 nominations compared to Mahathir's 11. Others nominated for the prime minister's post included PKR president Wan Azizah Wan Ismail (photo).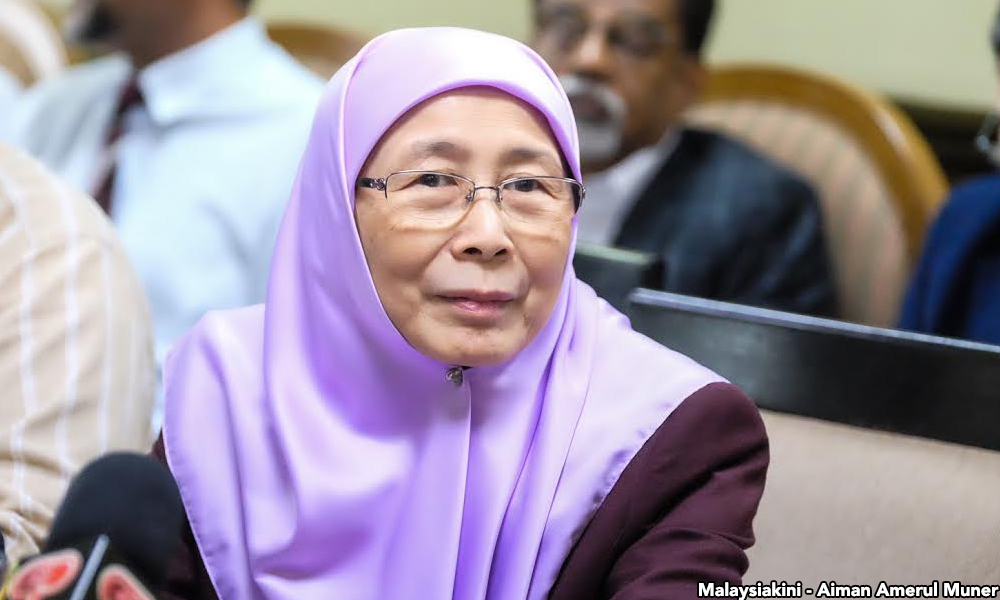 However, when the final round of voting came up, the majority voted for Mahathir to be made the prime minister.
The Harapan Youth meeting took place on the eve of the coalition's main body's two-day retreat in Putrajaya which decided on Mahathir as prime minister and Wan Azizah as deputy prime minister, subject to PKR de facto leader Anwar Ibrahim's consent.
'Focus is still on winning the elections'
PKR deputy Youth chief Dr Afif Bahardin confirmed that the wing members conducted a secret ballot during their pre-retreat meeting but declined to comment on the results of the vote.
"We only voted for the probable prime ministerial candidate to be presented during the Harapan retreat," Afif, who is a Penang exco, told Malaysiakini.
"Our focus is still on winning the elections. And to do so, we hope more youths will be selected as candidates, as they are more hardworking and energetic and willing to learn," he added.
Meanwhile, Amanah Youth chief Mohd Sany Hamzan said his party, had during the youth wings meeting, voted for Azmin as deputy prime minister after it was settled that Mahathir would be prime minister.
However, the main body, at the retreat which took place last Friday to Saturday, finally decided on Wan Azizah as deputy prime minister.
"Amanah Youth wing will follow the decision by the national party leadership," said Sany.
– M'kini
.