FELDA THE NEXT NAJIB CORRUPTION VOLCANO TO EXPLODE: AT LEAST RM8.7BIL IN LOSSES AS BAD AS 1MDB – RAFIZI
PKR vice-president Rafizi Ramli estimated today that Felda had incurred accumulated losses of up to RM8.7 billion from 2013 to 2015 due to the public listing of Felda Global Ventures Holdings Bhd (FGV).
This has put the Felda Group and FGV in the same category with 1MDB in terms of weak financial status, he said in a statement today.
Rafizi, who had projected yesterday that the agency will have an accumulated debt of RM12.6 billion as of December this year, continued to highlight Felda's losses.
"Since FGV's listing in 2012, the Felda Group has recorded over a billion ringgit in comprehensive losses annually – RM1.67 billion in 2013, RM1.109 billion in 2014 and RM1.112 billion in 2015," he elaborated.
"If the Felda Group had been a normal company which was not guaranteed by the government, it would already be declared bankrupt," he said.
"I am more concerned about Felda's financial crisis (compared to 1MDB) as it involved the abilities of the agency and the government to manage the livelihood of 100,000 settlers' families, or more than one million rakyat," he said.
"Prime Minister Najib Abdul Razak can remain silent but he knows that with (my) exposés throughout the week, the financial crisis of the Felda Group can no longer be kept under wraps and must be answered for," he added.
The Pandan MP drew his conclusion about the agency's losses from FGV's annual reports between 2013 to 2015.
"The dividends paid by FGV to the Felda Group fell drastically from RM256 million in 2013 to RM49 million in 2015," he said.
Rafizi added that the total losses on paper that could turn into real losses amounted to RM5.16 billion as of Dec 31, 2015.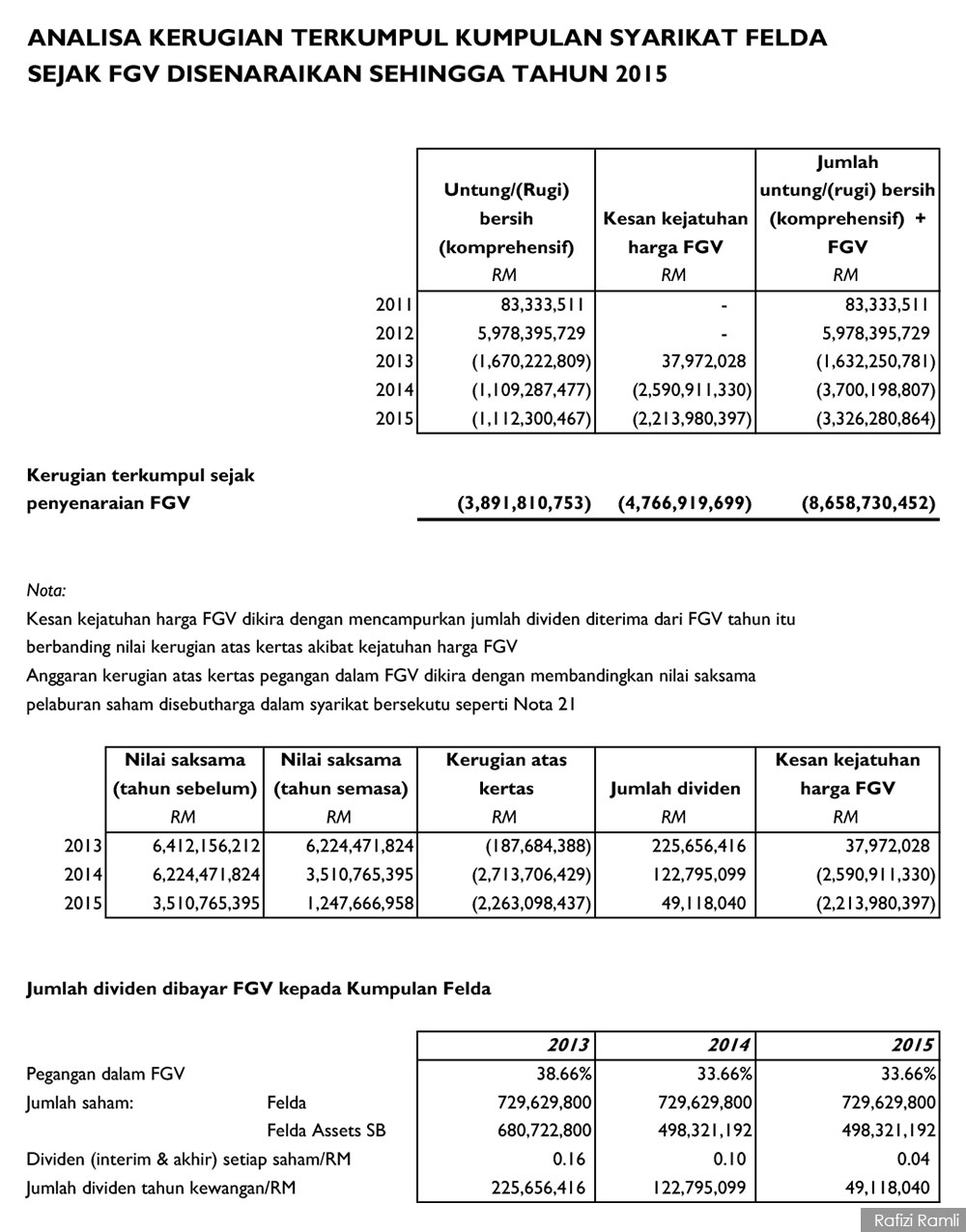 He explained that this could happen if the Felda Group were to sell off its FGV shares, or if the auditor that conducts FGV's performance assessment could no longer justify the price at which FGV shares were originally purchased, leading to an impairment being identified.
"As such, (it is estimated) the Felda Group (may) record RM8.7 billion accumulated losses due to its own losses and operations as well as the listing of FGV from 2013 to 2015," he said.
"I will continue to come out with (further) analysis next Monday," he pledged.
Yesterday, Rafizi claimed Felda and Putrajaya had declined to table the agency's audited accounts for 2015 and 2016.
He, however, said today he was made to understand that Felda's financial statement dated Dec 31, 2015 was tabled in Dewan Rakyat in April this year.
– M'kini
.