EVEN IN HIS JOB, ZAMIHAN LIES: 'UNHYGIENIC' MUSLIM PREACHER STILL EMPLOYED BY JAKIM, SECONDED TO ZAHID'S MINISTRY
PETALING JAYA- The Malaysian Islamic Development Department (Jakim) director-general Datuk Othman Mustapha pointed out in a statement last night that preacher Zamihan Mat Zin is still an official with Jakim stationed at Kajang prison.
Othman pointed out in the statement that Jakim's disciplinary committee would conduct an internal probe and take the necessary actions against Zamihan.
Zamihan said on his Facebook site yesterday that he was no longer with Jakim, and he accused Free Malaysia Today of intentionally mentioned his former position to incite the public to hate Jakim.
CERAMAH USTAZ ZAMIHAN MAT ZAIN YANG DIDAKWA MENGANDUNGI UNSUR KRITIKAN TERHADAP DYMM SULTAN JOHOR
1. Jakim memandang serius terhadap ceramah yang telah disampaikan oleh Ustaz Zamihan Mat Zain, pegawai kader Jakim di Kementerian Dalam Negeri yang kini ditempatkan di Penjara Kajang. Ceramah beliau yang telah dimuat naik dalam Youtube didakwa mengandungi unsur kritikan terhadap DYMM Sultan Johor.
2. Justeru, Jakim telah memanggil Ustaz Zamihan Mat Zain pada pagi tadi untuk menda…
MEANWHILE, according to Malaysiakini:
The Islamic Development Department (Jakim) has confirmed that preacher Zamihan Mat Zin was under its employment and said he was seconded to the Home Ministry.
Jakim director-general Othman Mustapha said this in a statement yesterday.
Checks on Jakim's website revealed that Zamihan was given the title "Islamic affairs officer" and is attached to the Home Ministry's publications and Quranic text control division.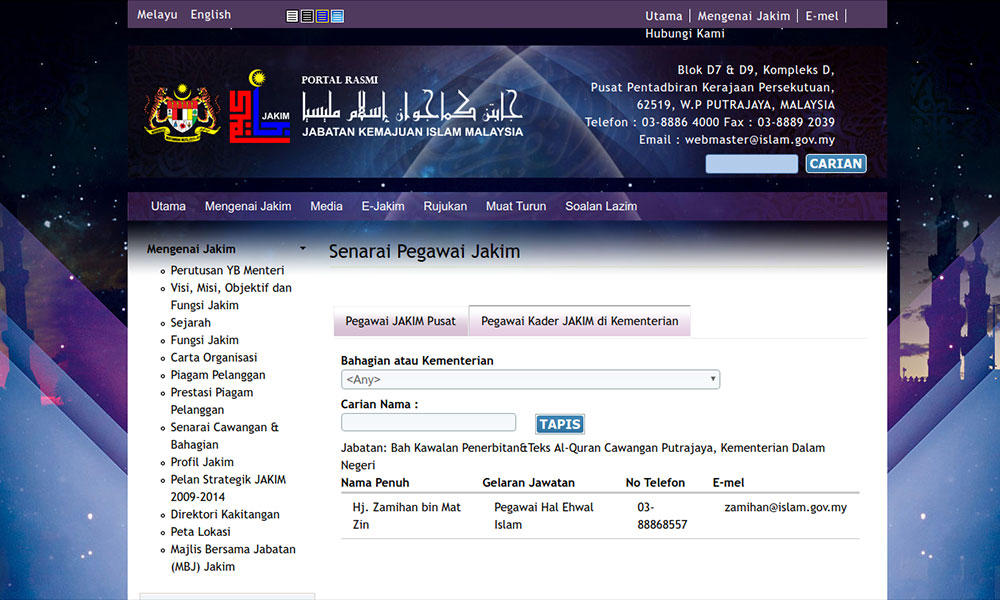 Othman said Jakim takes seriously the allegations that Zamihan had criticised the Johor sultan in a recent speech that has been widely circulated online.
"Jakim called up Zamihan this morning for a detailed explanation on the matter. Jakim has decided to refer the matter to the disciplinary board for further action," he said.
Yesterday, Zamihan denied allegations that he had insulted Johor ruler Sultan Iskandar Sultan Ibrahim and stressed that he never mentioned the ruler in his speech.
Zamihan's speech had criticised an unnamed ruler and two state mufti over their objections to having laundrettes that are exclusive to Muslims.
Under arrest
Since Sultan Iskandar is the only ruler to have voiced such objections, it is unlikely that Zamihan was referring to anybody else.
Yesterday, Zamihan told Malaysiakini that he was transferred to the Home Ministry in 2012 where he served until 2016.
"Where I am now is a secret," he said.
Zamihan was arrested in Kuala Lumpur yesterday for allegedly violating the sedition law in his speech.
He had denied any wrongdoing and blamed the press for misquoting him.
– MYSINCHEW / MKINI
.