EVEN BN SUPPORTERS REJECT NAJIB'S GST – IT ONLY SAVES YOU, NOT US: IN EYEOPENING SURVEY, OVER 80% BELIEVE GST TRIGGERED SPIKE IN COST OF LIVING
Most Malaysians believe that the goods and services tax (GST) correlates with the rise in the cost of living, according to surveys conducted by think tank Institut Darul Ehsan (IDE).
In a series of surveys called "Survey Malaysia 2017: Mood of the Nation", a total of 4,468 respondents were asked if they agreed with this statement: "GST is the reason for the rise in the cost of living."
Of the total, 82 percent of the respondents agreed while eight percent disagreed. The remaining 10 percent said they kurang setuju (did not fully agree).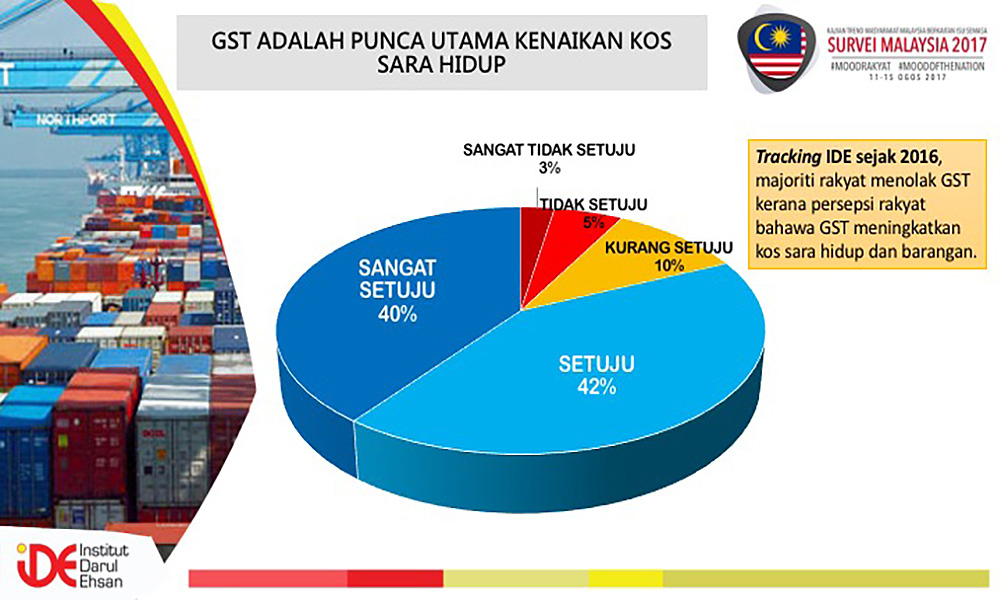 "The results mirror the Malaysian people's rejection of the GST, (a tax) that has resulted in the continued rise in the prices of goods and brought bad implications to the Malaysian economy," IDE said in a statement today.
This is despite how the BN government has "used all possible avenues to give positive exposure" on the tax, the think tank contended.
Just last week, Prime Minister Najib Abdul Razak discouraged criticism of the GST, saying it contributed to the national economy and helped fund programmes wanted by the rakyat.
 To show it had a representative sample of the Malaysian public, IDE said that respondents came from all states in Peninsular Malaysia and were of different races, education levels, occupations and places of residence.
Focus groups were also conducted to further confirm survey results.
Even BN supporters reject GST
Aside from the surveys, IDE has been "tracking" the issue since GST first came into effect on April 1, 2015, and has listed down its findings so far:
The people have the perception that GST has resulted in a rise in the price of goods.
The rise in the price of goods has affected the cost of living and economic situations of the people, especially those living in urban areas.
The rise in the price of goods is felt by the rakyat as a whole, across all sectors of society, including those earning a low income and the urban poor.
The dissatisfaction with GST is felt by society across all ages, races, occupations and places of residence.
More than 55 percent of the BN supporters from the pool of respondents approached rejected the GST policy in the country.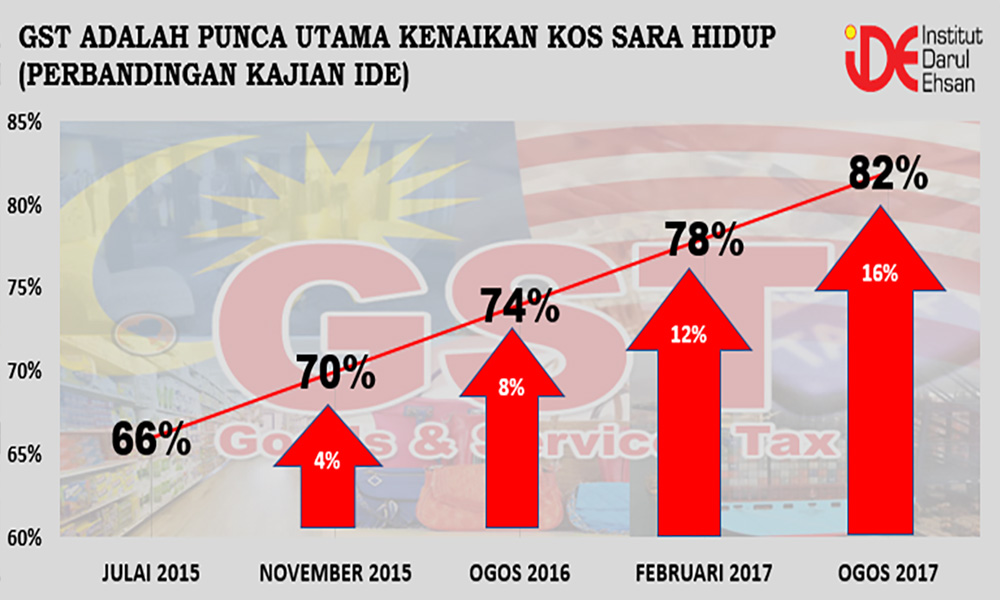 The surveys, conducted by 64 trained enumerators from Aug 11 to 15 this year, were led by Prof Mohammad Redzuan Othman, the current vice-chancellor of the Selangor state-funded Universiti Selangor (Unisel).
Selangor Menteri Besar Mohamed Azmin Ali is the advisor to IDE while PKR Youth chief Nik Nazmi Nik Ahmad sits on its board of directors.
– M'kini
.