EVEN BN MPs FORCED TO HIDE THEIR GIGGLES: THICK-SKINNED NAJIB TELLS PARLIAMENT S'GOR WATER DISRUPTION WORSE THAN 1MDB
The water disruption that affected parts of Selangor and Kuala Lumpur is more critical than 1MDB, said Prime Minister Najib Abdul Razak.
He said this in the Dewan Rakyat today after Selangor Menteri Besar Mohd Azmin Ali (PKR-Gombak) asked Najib whether the 1MDB issue had anything to do with Malaysia's increasing spending to pay interest on the national debt, or if there were other reasons.
Before Azmin could finish his question, several BN parliamentarians jeered at him, and some of them such as Abdul Azeez Rahim (BN-Baling) raised the water issue.
When the Dewan Rakyat settled down for Azmin to finish his question, Najib replied: "I would like to stress that the water problems in Selangor are more critical."
This threw the Dewan Rakyat into another round of pandemonium as Azmin insisted that Najib answers his question, while several BN parliamentarians attempted to shout him down.
This took place during question time this morning, on the first question of the day.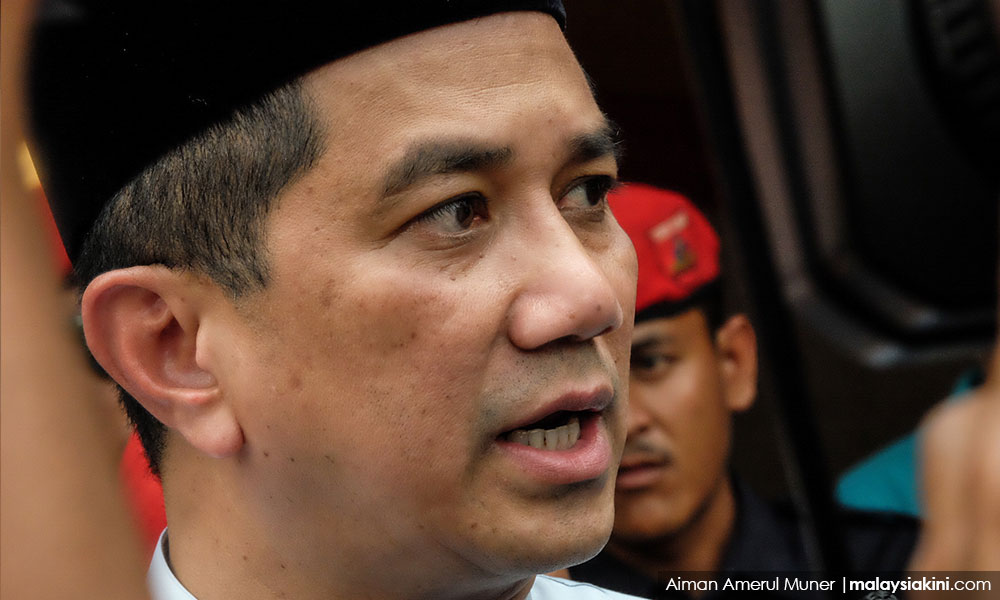 In his question, Azmin (photo) quoted a Singapore Straits Times report published on Feb 16, which said Malaysia's interest burden was less than nine percent of its revenue in 2009 when Najib took power.
This has steadily increased to 12.5 percent of revenue in 2016. In contrast, Singapore had only used 6.1 percent of its revenue to service its debt that year.
The report was published in response to Najib's statements highlighting that Malaysia's RM685.1 billion national debt last year was better than most countries, because it is only 50.9 percent of Malaysia's gross domestic product (GDP).
"Malaysia is better than developed countries such as Singapore at 112 percent, United Kingdom at 89.3 percent, Canada at 92.3 percent," the report quoted Najib as saying.
Once the situation in the Dewan Rakyat calmed down, Najib said it was not the size of the national debt that mattered but the government's ability to repay it.
"The question is not so much about the size of the debt, but our ability to repay it. If Yang Berhormat mentioned Singapore, Singapore's debt is even bigger. But it's ability to repay is certainly there.
"So, we have the ability to repay (our debts). That is beyond reproach because international rating agencies have put us in the 'A' category.
"This means the nation's finances, including the national debt, are well-managed, with hopes that the water problems in Selangor would be properly resolved too," Najib said.
– https://www.malaysiakini.com
.