DR MAHATHIR TO BE PM, AZIZAH DPM – HARAPAN PARTIES AGREE ON TOP POSTS EXCEPT FOR CORRUPTION & SODOMY-LADEN YET OVERAMBITIOUS PKR
EXCEPT FOR PKR, the other Pakatan Harapan parties have agreed to name Dr Mahathir Mohamad and Dr Wan Azizah Wan Ismail as interim prime minister and deputy prime minister respectively, if the coalition wins the next general election.
The Malaysian Insight learnt that the proposal was made during a two-day PH retreat at Perdana Leadership Foundation in Putrajaya on December 1 and 2.
"Bersatu, Amanah and DAP have agreed, only PKR hasn't reached a consensus," the source, who attended the retreat, said on condition of anonymity.
"We have to defer the decision because PKR wants to discuss it in their political bureau (meeting)."
The retreat also concluded all parties would discuss the matter internally after the programme, the source said.
Another source from Amanah said the party had made its decision a month ago, unlike other parties in the coalition.
"Other parties were still undecided then," the source told The Malaysian Insight.
The source said the retreat, which was attended by top leadership of PKR, Bersatu, Amanah and DAP, had also agreed to finalise seat allocation among the parties by the end of December.
"We don't have much time, we have to move fast," the source said, adding the coalition would find other alternatives if its application to register as an official coalition is unresolved.
"If Registrar of Societies still refuses (to approve), PH will use logo of one of its most acceptable and well-known parties.
"Most probably it will be PKR's logo," the source said.
MEANWHILE, according to Malaysiakini:
IT ALL DEPENDS ON ANWAR
A proposal to make Dr Mahathir Mohamad and Wan Azizah Wan Ismail as interim prime minister and deputy prime minister if Pakatan Harapan comes to power will hinge on the approval of PKR de facto leader Anwar Ibrahim.
PKR parliamentary whip Johari Abdul confirmed that the proposal was made during Harapan's two-day retreat in Putrajaya starting Friday.
"We are just waiting to get clearance from Anwar. He is the de facto leader.
"If Anwar is okay (with it), we are okay," said Johari, who is part of the PKR politburo.
Mahathir was prime minister for 22 years from 1981. Wan Azizah is the current opposition leader.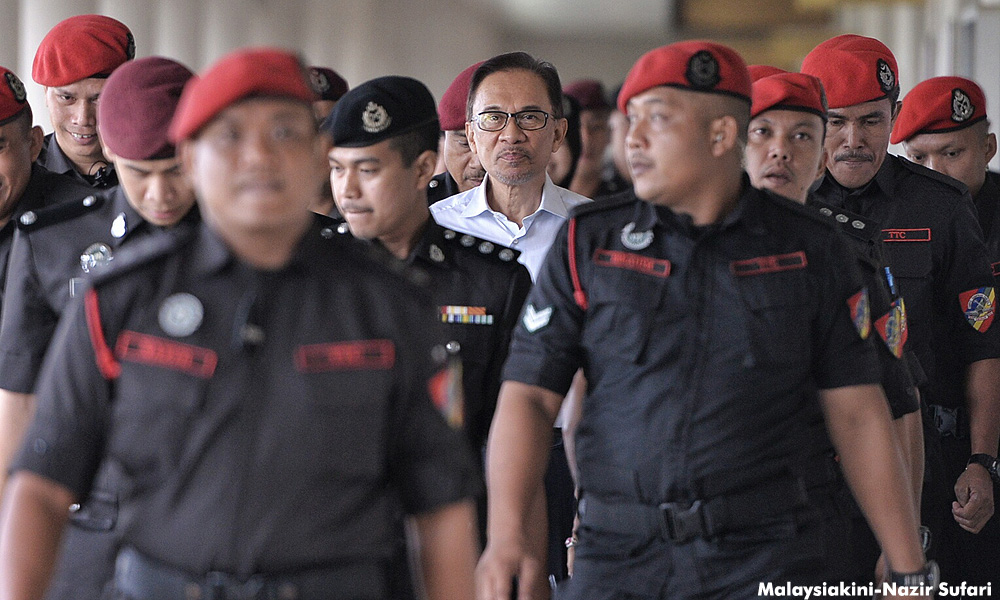 Johari said PKR must refer to Anwar, who is also Harapan de facto leader, as a courtesy.
Anwar is presently serving a prison term in Sungai Buloh prison for sodomy, a charge he claimed was politically motivated.
He is expected to be freed in the middle of next year, but will face a five-year ban from politics thereafter.
Mahathir is also Harapan and Bersatu chairperson, while Wan Azizah is Harapan and PKR president.
If the plan gets Anwar's go-ahead, it will be the first time Harapan presents a united front on its prime minister and deputy prime minister candidate.
The coalition, under its predecessor Pakatan Rakyat, had touted Anwar as its prime ministerial candidate, but Anwar's jailing and subsequent ban from politics had changed the dynamics of the opposition.
– THE MALAYSIAN INSIGHT /MKINI
.