DR M GETS ROUSING WELCOME AT KLSCAH, THE CHINESE HALL UMNO YOUTH WANTED TO BURN DOWN WHEN HE WAS PM, WHILE AZIZAH & SITI HASMAH CAUGHT IN CLOSE CONVERSATION
Sixteen years ago, Umno youth had threatened to burn down the Kuala Lumpur and Selangor Chinese Assembly Hall (KLSCAH) after then prime minister Dr Mahathir Mohamad branded the Malaysian Chinese Organisation Election Appeals Committee (Suqiu) that it was part of an extremist organisation.
But the times have changed. Today, Mahathir walked into the KLSCAH without torches accompanying him, to talk on mega Chinese investments in the country.
Mahathir, now the Pakatan Harapan chairperson, arrived at the venue at 8.45pm and was applauded by the crowd even before his arrival was announced.
Some 800 people, mostly middle-class urbanites from a mixed ethnic group, attended tonight's forum.
A strong police presence was palpable – a far cry from the Nothing to Hide 2.0 forum two weeks ago, where a fracas erupted when Mahathir was taking questions from the floor in Shah Alam.
However today, About 40 police personnel were deployed outside the venue. They consisted of a team of the light strike force, uniformed police and plain clothes policemen. Some of them were seen having tea at a stall outside the KLSCAH.
The organisers also deployed at least 10 security personnel of their own to prevent any untoward incidents.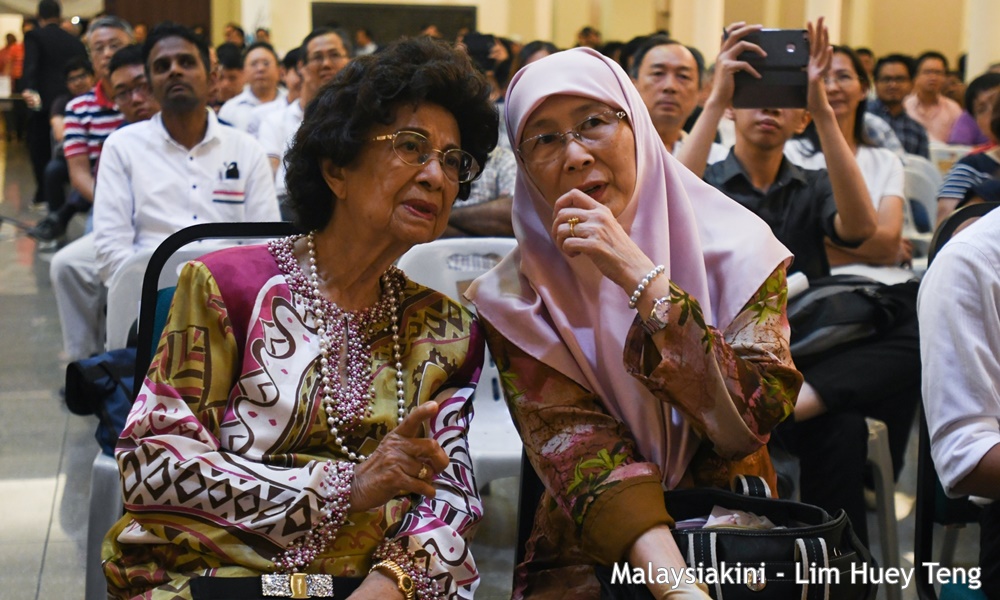 The forum, organised by the PKR-linked Institut Rakyat, focuses on whether Malaysia's various cooperation with companies from China for major projects in the country is straining the nation's debt burden.
Apart from Mahathir, other panellists were economist KS Jomo, PKR vice president Nurul Izzah Anwar and Institute Rakyat Executive Director Azrul Azwar Ahmad Tajudin.
Speaker Jomo has written extensively about the Malaysian economy, including rent-seeking corruption under Mahathir's tenure in office.
PKR president Dr Wan Azizah Wan Ismail and Mahathir's wife Dr Siti Hasmah Mohd Ali were also present and sat side by side during the forum.
The forum ended without any incident at 11pm.
– M'kini
.