DR M, ANWAR COMBO ALL SET TO ROLL OUT: UNLESS AMBITIOUS AZMIN THROWS A SPANNER INTO THE WORKS, PAKATAN TO ANNOUNCE LEADERSHIP STRUCTURE SOON
The organisational structure of Pakatan Harapan, which consists of major leaders from the opposition coalition of PKR, Parti Pribumi Bersatu Malaysia, DAP and Parti Amanah Negara, is nearing completion following their final stage of negotiations.
Sources indicated to Malaysiakini that PKR de facto leader Anwar Ibrahim has agreed for former prime minister Dr Mahathir Mohamad to play a major role in the coalition, possibly as its chairperson, while he is serving time in prison.
However, should the opposition coalition win Putrajaya in the next general election, it would work to ensure Anwar is released from prison and is given a pardon. Anwar is currently serving his five-year jail term for Sodomy II, a charge he maintains is politically motivated.
It is understood that Mahathir wants Harapan to have a similar structure as the Barisan Nasional, the coalition he helmed for 22 years, in which the party Umno plays the dominant role. That role is envisaged to be played by Bersatu.
While it is understood that Amanah and DAP have no reservations about Mahathir leading Harapan in a bid to unseat Prime Minister Najib Abdul Razak, the opposition is said to come from PKR.
This follows the precursor to Pakatan Harapan – Pakatan Rakyat – which comprised PKR, DAP and PAS, relied on concensus in its decision making process.
Anwar and PKR want Harapan to work with concensus, rather than have a party dominating the coalition.
It is understood that Mahathir may eventually agree to running the opposition coalition with concensus from all parties.
Bersatu seen as trying to dominate
It was previously reported that Bersatu may have been perceived to be trying to dominate its partners during negotiations in Harapan, but Mahathir explained that this is all – really – just the art of haggling.
"There is no monopoly. We discuss things. (It is) like selling things. First, we ask for a high price, then, when you are given (an offer), you decide lah," Mahathir said recently.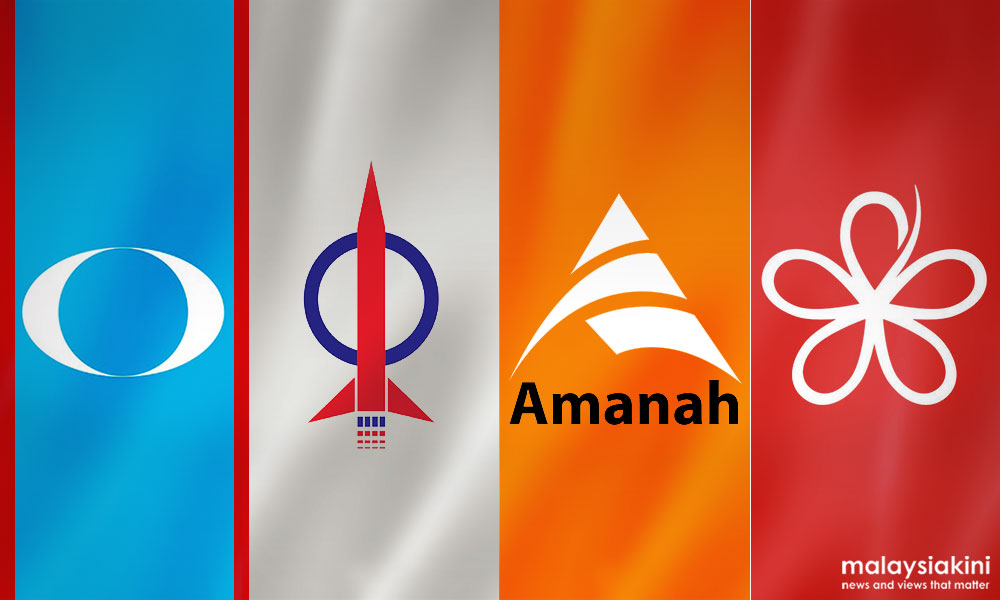 Efforts to sort out differences were boosted further when PKR vice-president Nurul Izzah Anwar met Mahathir, during Hari Raya in London recently.
The visit is said to have strengthen speculation of a possible solution to the Harapan leadership disagreement.
Azmin to throw a spanner in the works?
While Selangor Menteri Besar Mohd Azmin Ali has downplayed Nurul Izzah's meeting, a solution seems to be in the cards as Azmin, who is also PKR deputy president, met Anwar shortly during Anwar's court case yesterday.
Sources also revealed that an intermediary has also met with Mahathir and Anwar separately, so that a resolution could be reached.
"Alhamdulillah, it is almost completed," said a source.
Another source said Harapan would have to be ready by October, when the 14th general elections could be called by Prime Minister Najib Abdul Razak, after the 2018 Budget is tabled in Parliament.
"After the tabling of the budget and pledging a lot of goodies, Najib may call for a snap general election, and re-tabled the budget if he wins.
"This may happen and all Pakatan Harapan parties have to be in a state of readiness now. We have to show to the public tht Pakatan Harapan is a viable opposition against the BN.
"While there are many people who hate Najib, we also note that people are also hating the opposition following the disagreements among the coalition members. This will be resolved soon," the source added.
It is understood Pakatan Harapan's presidential council meeting will be held tomorrow.
Nurul Izzah, when asked about this yesterday, hinted that the Harapan leadership line-up could be resolved this week.
– M'kini
.