DON'T GET TOO ARROGANT AZMIN & CO: MAT SABU TO CONTEST BOTH PARLIAMENT & STATE SEAT IN SELANGOR AS AMANAH POSITIONS TO REPLACE PAS
Amanah is looking to field its president Mohamad Sabu as their GE14 candidate for the Kota Raja parliamentary seat and the Taman Templer state seat, according to party sources.
This is believed to be part of a wider move to field the party's better known leaders in Selangor to position itself as a replacement for PAS in the state government.
"Mohamad will likely be fielded in Taman Templer, a state seat under Selayang parliamentary constituency. He may also be fielded for the Kota Raja seat.
"Contesting in both parliamentary and state seats is a precedence started by other parties," said a source close to Amanah's leadership, while pointing out that it was common for top opposition leaders to be fielded for both state and parliament seats.
Earlier this month, Selangor Amanah had proposed bringing Mohamad, a Kedah native, over to lead the charge in their state.
Mohamad is no stranger to being fielded in unfamiliar territory. He first entered Parliament in 1990 when he was elected as the Nilam Puri MP. He would go on to represent Kubang Kerian and Kuala Kedah.
Following this, he failed to retain his seat in 2004. He lost both subsequent elections in 2008 and 2013 when he was fielded in Kuala Terengganu and Pendang respectively.
'Safer' seat
If he is fielded in Kota Raja, it will be the first time Mohamad will be seeking to represented a constituency where non-Malays make up the majority.
According to 2013 elections data, Kota Raja, which encompasses part of Klang town, has 44 percent Malay voters followed by Indians (29 percent) and Chinese (25 percent).
According to a source, the party plans to move incumbent Kota Raja MP, Dr Siti Mariah Mahmud, who is also Amanah's women's wing head, to a state seat.
In 2013, Siti Mariah retained the Kota Raja seat by securing 63.8 percent of the votes cast.
Another party source said the plan was to field Mohamad in a relatively "safe" area, where between 20 to 30 percent of the electorate are non-Malay voters and therefore more likely to support a Pakatan Harapan candidate.
With the need for such criteria, the source said that this made it harder to field Mohamad in Kedah, Penang, Perak and Kelantan, where he is a more familiar face.
When contacted, Mohamad confirmed that Selangor Amanah was keen to have him fielded in Selangor, but there was nothing concrete yet.
"The party has yet to decide… I will also have a say," he said, while denying suggestions that there are efforts to field him in "safer" areas.
Khalid to Johor?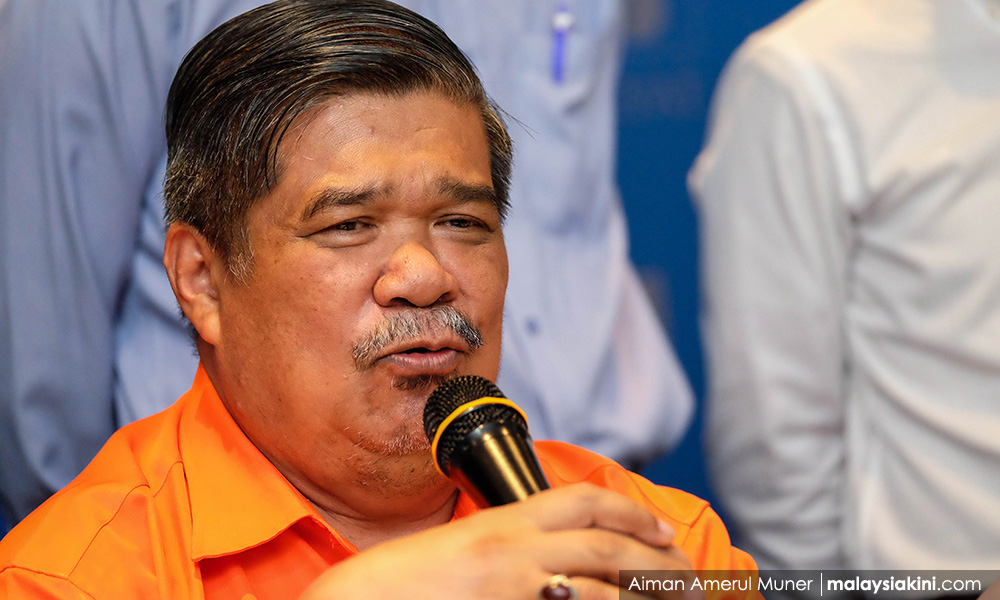 Meanwhile, party sources revealed that there was discussions on fielding the party's information chief Khalid Abdul Samad, who is currently in his second term as the Shah Alam MP, in Johor.
This, according to sources, was part of a strategy to bolster the party's efforts in Johor, which has been identified as a frontline state for Pakatan Harapan, alongside the party's deputy president Salahuddin Ayub.
https://www.malaysiakini.com/news/395177 frontline
The party leadership is said to be mulling proposals to field Khalid in Pasir Gudang, which will likely involve in a seat-swap arrangement with PKR.
"Khalid has warrior-like qualities while Salahuddin is more of a gentleman. They will complement each other," said the source.
When contacted, Khalid declined to confirm if he will be fielded in Pasir Gudang, citing the need to maintain the secrecy of party strategies.
"But, if I were to leave Selangor, it is natural for me to contest in Johor. Both my parents were from Johor, I was born in Kelantan and grew up in Selangor," he said.
On talks that Mohamad would be fielded in Selangor, Khalid said it was important for the party to field its president in a relatively "safer" area.
"We want the president to be in parliament, that I cannot deny. It is important to ensure our president wins, and we have to look for a good seat for him.
"By placing a major and important figure in Selangor, we can make it a Harapan state in the long term and we are serious about replacing PAS in the state," said Khalid, who is the Amanah communication director.
– M'kini
.