DON'T BE ABSURD, NAJIB: YOU DIDN'T DO ANYTHING BUT GET MALAYSIA INTO DEEPER DEBT – 1MDB ACTUALLY CAPITULATED TO ABU DHABI LOCK STOCK & BARREL
Desperation causes stupidity to rise to the fore.Take 1MDB and the way it spins its so-called settlement with Abu Dhabi's International Petroleum Investment Company (IPIC), the parent company of Aabar Investments PJS. There was a dispute and it was settled, but there was no renegotiation. 1MDB capitulated to all IPIC demands.
But this has been spun to give the false impression that all matters have been settled between the two. Ministers rushed to make statements about how the eventual settlement will be in favour of 1MDB and how it indicates that no money went into Najib Abdul Razak's accounts.
Singapore's The Straits Times, which broke the news on the settlement, even preposterously reported that the settlement will make it more difficult for the US Department of Justice or DOJ to continue with its actions relating to 1MDB. It is difficult to see how because it caused no change in money flows.
The Straits Times reported that the "successful implementation of the proposed settlement could impact legal action being considered against 1MDB by foreign governments, including the DOJ.
"Bankers and legal executives (unnamed) familiar with the situation believe the deal could significantly dilute the international legal challenges confronting Prime Minister Najib Abdul Razak's administration over the fallout from the 1MDB saga."
The report continues: "…Here is why. The disputed monies in the Malaysia-Abu Dhabi row are central to legal suits brought by the US Department of Justice over the alleged misappropriation of funds from 1MDB. The Department of Justice claims that the funds siphoned from 1MDB went to fund purchases of real estate and other assets by associates of PM Najib.
"The settlement agreement between Malaysia and Abu Dhabi would achieve what is known in legal parlance as 'no predicate offence', the financial executives said.
"A predicate offence is a crime that is a component of a more serious crime and it is frequently applied in the US to actions involving the provision of funds for money-laundering and the financing of terrorism.
"Proponents of the settlement between Malaysia and Abu Dhabi argue that a successful completion of the deal would weaken the impact of any legal action taken by foreign governments over alleged money-laundering at 1MDB because of the lack of evidence," The Straits Times said.
However, as it stands, US$3.5 billion is still missing and in dispute and IPIC says it never received the money. In this case, clearly the main offence is allegedly stealing money from 1MDB and the predicate offence is the laundering of part of this money in the US.
Everything that the DOJ has reported remains unaltered despite the settlement. Its case remains as strong as ever. The DOJ report says that US$3.657 billion was stolen from 1MDB (the main offence) and part of it was laundered in the US (the predicate offence).
Paying twice for same bonds
Under the settlement, despite outstanding issues, 1MDB agreed to pay RM1.2 billion to IPIC and the US$3.5 billion in two bonds are now guaranteed by 1MDB and Malaysia's Minister of Finance Inc, instead of jointly with IPIC/Aabar before.
That's a cost of at least US$1.75 billion (half of the value of the bonds) to 1MDB and leaves 1MDB with no more bargaining power at all. And the US$3.5 billion that 1MDB paid to the wrong Aabar – the one suspiciously incorporated in the British Virgin Islands – is still a matter of dispute.
This will be part of ongoing negotiations. "The parties have also agreed to enter into good faith discussions in relation to payments made by 1MDB Group to certain entities," IPIC's filing to the London Stock Exchange states.
Clearly this has not been settled, and as MP Tony Pua, one of the most knowledgeable people about 1MDB, had correctly pointed out, by taking over the guarantee that was previously jointly provided with IPIC, 1MDB is effectively paying twice for the same bonds – some US$7 billion in all! That US$3.5 billion, or over RM15 billion, at current exchange rates still remain missing.
This is where Finance Minister II Johari Abdul Ghani comes in to disclose the existence of a letter confirming that Aabar Investments PJS Ltd (BVI) – the one incorporated in British Virgin Islands, is a subsidiary of IPIC even though the Abu Dhabi firm denies this.
"As far as I am concerned, based on records provided by 1MDB to the Public Accounts Committee (PAC) prior to the settlement agreement, Aabar Investments PJS Ltd (BVI) is a subsidiary of IPIC. A fact which was confirmed by the Registrar of Corporate Affairs of the British Virgin Islands by its letter dated Aug 11, 2016," Johari told Malaysiakini.
But as far as IPIC is concerned, it's not and that's what matters. If 1MDB and Malaysia thought otherwise, why would they let IPIC off the hook by assuming the guarantee in full? And there's no chance IPIC is going to say different in future. The question to ask is, why did 1MDB make a payment to a so-called subsidiary instead of directly to Aabar or IPIC? Was it to deliberately siphon funds out of 1MDB?
And then Minister in the Prime Minister's Department Abdul Rahman Dahlan said that the settlement shows no money went into the Prime Minister's account. He is saying that the money is in the form of unit trusts, presumably because 1MDB, in its own scant statement, said that the US$1.2 billion will be monetised from the unit trusts.
But really, that's not true at all. The DOJ report clearly shows that during different phases of money moving out of 1MDB and into various accounts, a total of US$731 million came into Najib's accounts between 2009 and 2013. Subsequently, US$620 million moved back into accounts controlled by Jho Low, leaving a net of US$111 million in Najib's accounts still (see chart).
In the face of desperation, reason has been flung out the window and the increasing ridiculousness of 1MDB's assertions, those of some ministers and even foreign news reports which appear to have been taken up by 1MDB's propaganda machine, is a sign – if that was needed – that 1MDB is still very much in dire straits. And that much is being done deliberately to hide the extent of the problems. Still, it will continue to haunt Najib and his administration for a long time more.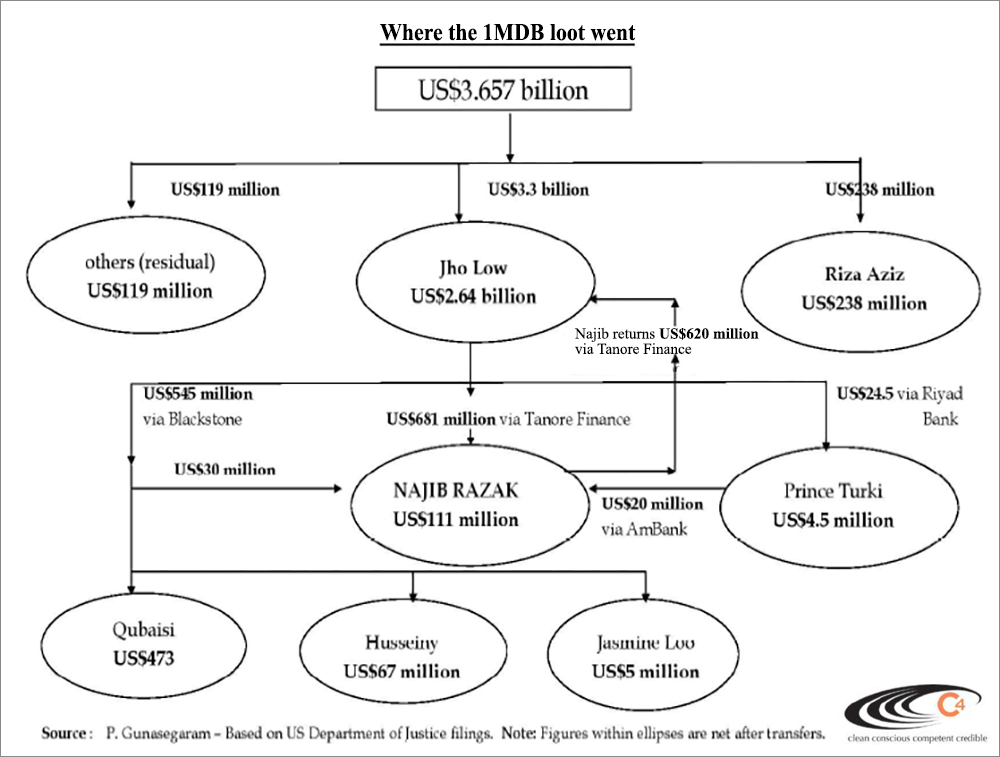 P GUNASEGARAM says that truth eventually resurfaces despite all attempts to hold it underwater. Email: t.p.guna@gmail.com.
– https://dinmerican.wordpress.com
.