DESPITE INSULTING DR M AS OLD, 'GUTLESS' NAJIB WILL FAINT: LET THE NATION DECIDE – AMBIGA CALLS FOR NAJIB VS MAHATHIR DEBATE
Former Bar Council chairperson Ambiga Sreenevasan has proposed that a debate is held between BN and Pakatan Harapan's candidates for the prime minister post.
According to her, a prime ministerial debate would allow the people to make a judgement regarding their choice.
"This happens in all mature democracies and so neither of them should be afraid," she told Malaysiakini.
Ambiga said if the two candidates agreed to the debate, she would be willing to organise it.
"If they say 'yes', many would be willing to organise it. I would also take the responsibility to organise it," she added.
Pointed out that Prime Minister Najib Abdul Razak had refused to entertain such calls in the past, Ambiga said there is always a first time.
"Najib may not have been prepared previously, perhaps now he would be," she added.
Ambiga also urged the ministers who have been critical of Pakatan Harapan nominating Dr Mahathir Mohamad as it's prime minister candidate to convince Najib to participate in the debate.
On Sunday, the opposition coalition named the 93-year-old former premier as its choice for the top post if Harapan wins federal power in the coming general election.
Previously, Mahathir had attempted to debate with Najib on two occasions.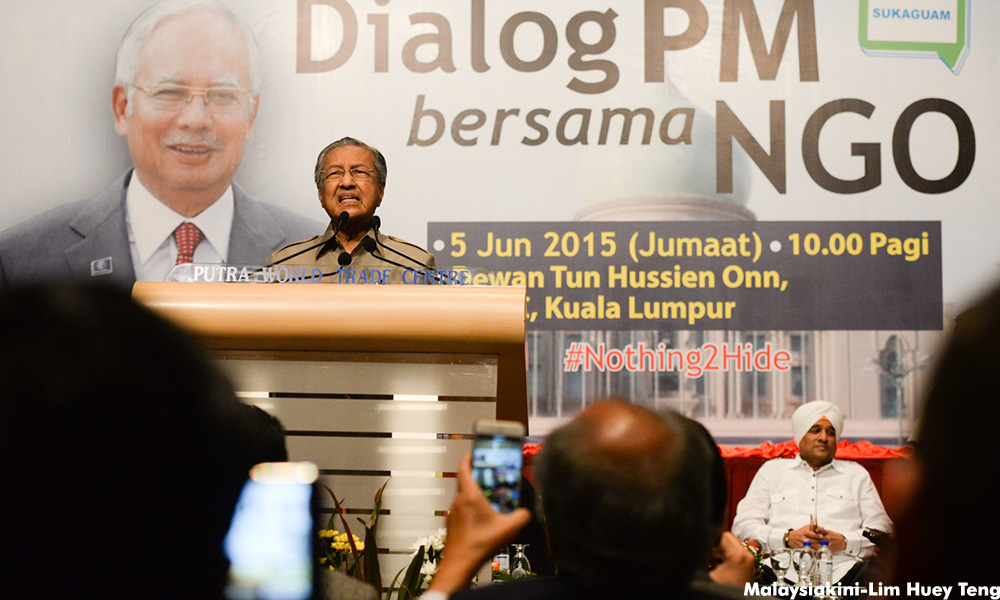 Last November, the former premier once again challenged Najib to face him in a "Nothing to Hide 3" forum.
Najib had failed to turn up for the first "Nothing to Hide" forum in June 2015 after Mahathir gatecrashed the event at the Putra World Trade Centre (PWTC) in Kuala Lumpur.
However, the organiser later claimed that Najib was about to leave his house for the dialogue when the police asked him not to do so.
The prime minister also did not attend the second "Nothing to Hide" forum, which witnessed a fracas erupting in the Shah Alam hall.
MKINI
.