DESPERATE TO WIN, AZMIN CAMP READY TO 'WELCOME S'GOR PAS REPS WITH OPEN ARMS': AS IF PAS WON'T FIELD OTHER CANDIDATES & WHAT IF THE 'FROGS' LEAP BACK TO PAS AFTER WINNING THEIR SEATS?
While PAS has written off as rumours its Selangor elected representatives may be quitting, a Selangor PKR leader, however, says the party's doors are open.
That the reported news of up to 10 Selangor PAS assemblypersons wanting to support Pakatan Harapan was just cyber warfare is PAS exco Iskandar Abdul Samad's "own opinion", she said.
"However, if there are those who are keen, we will not stop them, and welcome them with open arms," Selangor PKR Wanita deputy chief Daroyah Alwi was reported in Sinar Harian today as saying.
Daroyah, who is Sementa assemblyperson, said the move was welcomed as it could prevent three-cornered fights in the coming general election.
"Our focus now is to have straight fights (with BN), that is a factor that would bring victory. We need to win, for the people's sake.
"If there are three-cornered fights, it would not only give BN a chance to win, but it would cause voters to be confused as to their choice on polling day," she said.
However, Daroyah said PKR is prepared to face three-cornered fights and have developed their strategies to tackle this.
PAS' top leaders have been on the offensive in Selangor, claiming they would contest in numerous seats currently held by PKR and DAP.
Singapore's Straits Times in August also alleged that PAS president Abdul Hadi Awang had been in "near daily contact" with Prime Minister Najib Razak in a collaboration to wrest Selangor from Pakatan Harapan.
On Friday, The Malaysian Insight quoted sources as saying up to 10 Selangor PAS assemblypersons were planning to quit their party to align themselves with Harapan, a claim Iskandar has denied as malicious rumours.
According to the report, the disgruntled PAS assemblypersons had allegedly tried to persuade their party leaders to support the opposition front, but had failed.
PAS strikes back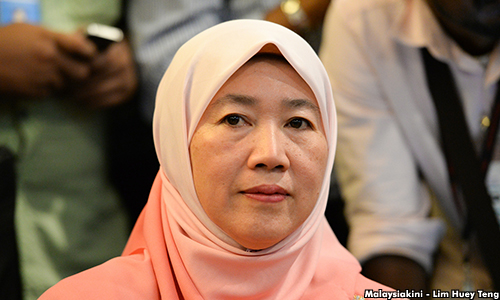 In an immediate response, PAS election director Roslan Mohd Shahir told Daroyah to concentrate on retaining her seat instead of playing "cheap politics".
Commenting on his Facebook, Roslan claimed PAS had "loaned" PKR their "traditional" Sementa seat.
"We will want the seat back in the 14th general election.
"Our machinery is ready and impatient to give the rights and justice to the people of Sementa, who have long thirsted for a representative who understands their soul," wrote the PAS
He said PKR can wait as long as they like for PAS representatives to hop over, while they themselves will be busy focusing on winning Sementa.
– M'kini
.