'CRAFTY' KHAIRY UPS THE ANTE ON JOHOR SULTAN, CROWN PRINCE – MILKS MORE POLITICAL MILEAGE AT THEIR EXPENSE: PICS OF KJ IN EXAGGERATED POSES OF BOWING & DEFERENCE DRAW SYMPATHY & PRAISES FROM UMNO CROWD
IMAGES of Youth and Sports Minister Khairy Jamaluddin bowing while shaking the hands of Johor's Sultan Ibrahim Iskandar and Crown Prince Tunku Ismail have gone viral, with many praising the cabinet minister for being respectful.
The photos, uploaded on the Johor Southern Tigers Facebook page this evening, have since received over 2,000 comments, most of which were positive and in favour of Khairy.
"Alhamdulillah kami sebagai rakyat sangat gembira dengan gambar ini…. (Praise be to Allah, we the people are so happy with this image…)" read a comment by Muzaffar Muhaimin.
"KJ is great. He's unshaken but he's respectful. Everyone has differences of opinion but he's taking it well," said Raudah Siman.
"This is genteel politics. Even though he is not my favourite politician, but his work and team building efforts is commendable."
Khairy was granted an audience today following an unusual challenge by the sultan for a game of equestrian polo.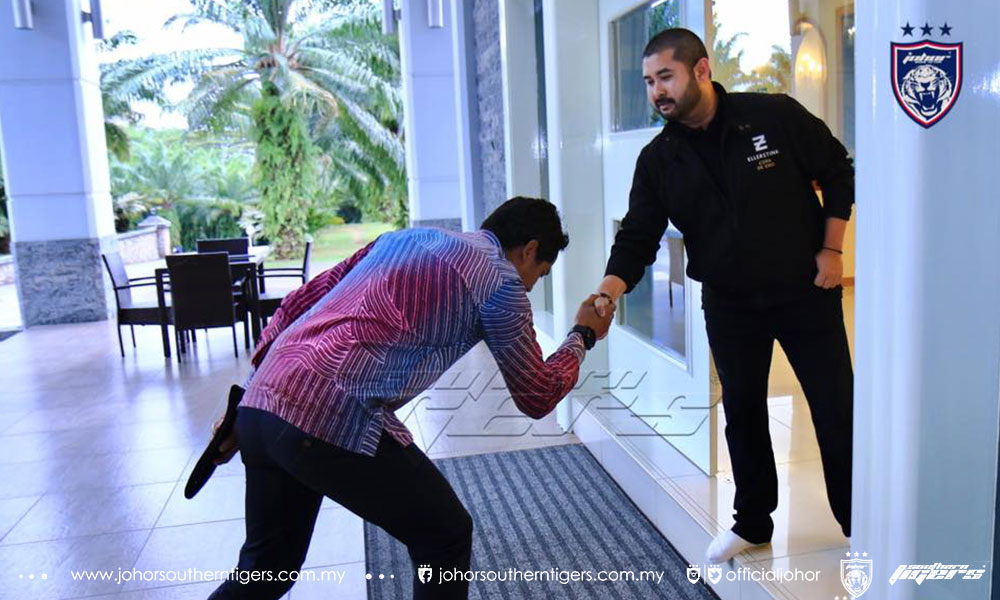 However, it is not known what the minster and the Johor royals discussed today.
In a posting on the Southern Tigers Facebook page yesterday, the sultan slammed the polo teams competing at the games for "merely meeting the necessary conditions" and possessing a lower handicap, making it easy for matches to be won.
"I challenge the Sea Games polo team to come to Johor and show your fangs since news of your greatness precedes you," Sultan Ibrahim said.
"I'd like to extend the invitation to the youth and sports minister and, hopefully. he won't disappoint the requests of the people to see your team defeat the Johor team."
The sultan said he would play in the Johor team in the proposed match, along with his two sons and two horse trainers, adding that if they lost, he would admit to the superiority of the national Sea Games polo team.
– https://www.themalaysianinsight.com
.