CHEERS GUYS! CHANG KHIM CONFIRMS ITS 'BOTTOMS UP' AT KLANG, GERMAN FEST TO GO ON NEXT WEEK
KUALA LUMPUR— A German food and drink festival in a Klang mall can go on next week as the organiser already has approval from the Klang municipal council (MPK), a state executive councillor said today.
Datuk Teng Chang Khim said MPK had last week approved the "German F&B Party", but noted that the official letter has been postponed amid uncertainty about the police's stand on the event.
"Yes, they (organisers) will proceed because they have a temporary permit from MPK, dated Sept 28. MPK had imposed 20 conditions and imposed a RM400 fee.
"However, they have yet to pay because MPK is delaying the permit, due to (recent) statements by the police. We'll have to see how it goes," he was quoted saying by news portal Malaysiakini, also noting that police cannot stop a lawful commercial programme.
According to Malaysiakini and a photo it published, North Klang district's deputy police chief Supt Nor Omar Sappi had in a September 14 letter to the Klang event's organiser said it had "no objections" and gave its conditional support for the event.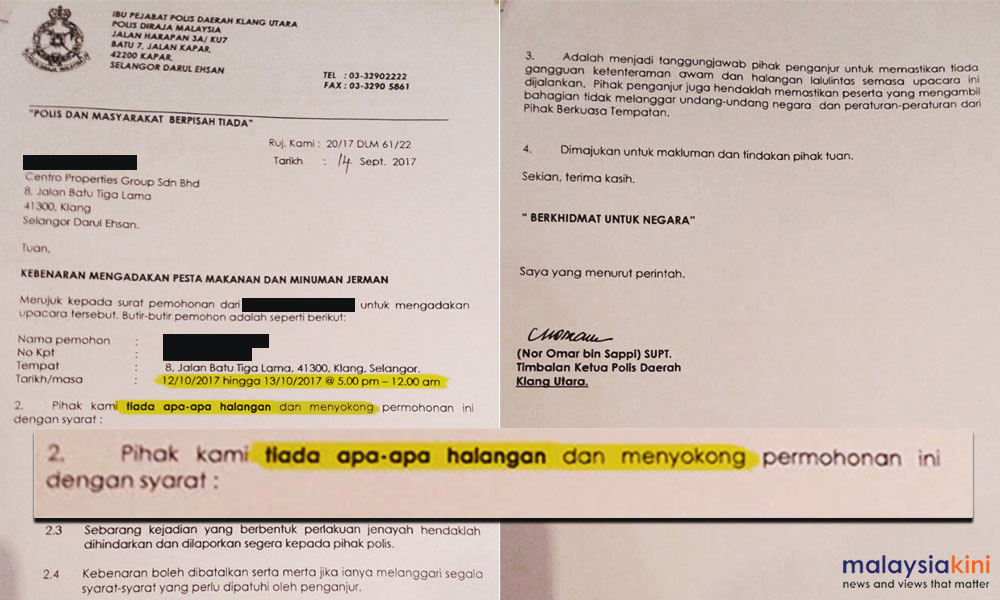 On Friday, Teng said the event organiser had received a letter from the North Klang police who said they had no objections to the event, adding that the Klang municipal council subsequently decided to allow it to proceed.
On Saturday, however, the North Klang district police chief ACP Mazelan Paijan was reported as saying that no application for the event was received, adding that police will not approve the event as alcoholic beverages will be served there.
Today, Teng alleged that the event organiser was asked to return the September 14 letter to the police, claiming that this was likely a result of the police being under pressure after remarks by Home Minister Datuk Seri Ahmad Zahid Hamidi.
He said the police must be professional, reportedly saying: "If there are no problems, especially since this is not the first time the event has been held, just approve it.
"Don't be afraid of pressure from anyone. To me, when the deputy prime minister made the statement, he was under pressure from certain political parties," he was quoted saying, referring to Zahid who is also deputy prime minister.
Leaders from both PAS and Umno have recently voiced their objection to the Klang event.
Yesterday, MPK told local daily Sin Chew Daily it will have to retract its previous approval for the festival after police withdrew their approval, asserting that this was unrelated to whether alcoholic beverages would be served.
According to Sin Chew Daily, the North Klang district police yesterday said its previous approval was due to a misunderstanding and misinterpretation of the title of the MPK's letter regarding the event, and that it was retracting approval.
The MPK had previously approved the event to be held in Klang's Centro mall from October 12-13, with several conditions including the barring of Muslims from entering the vicinity of the event and the omission of the word "Oktoberfest" and renaming it to become "Centro German F&B Party".
MALAY MAIL
.