CAN THE SKY LIMIT JACK MA? HOW AN ORDINARY CHINESE MAN MADE HIS WAY TO A US$470 BILLION FORTUNE
Business | November 2, 2017 by | 0 Comments
01: 
The rock star billionaire
It is hard to find the words to describe the scale of Alibaba Group, the Chinese e-commerce business founded in 1999. It's probably best exemplified by the numbers: Every single day, 200 million people shop on Alibaba's mobile sites and it sold $550 billion worth of merchandise in its last fiscal year.
In May, Alibaba Group announced annual revenues had gone up 56 percent to almost $23 billion, and in June investors literally gasped as it upped its growth forecast for 2017 from 45 percent to 49 percent. Its 2014 initial public offering (IPO) was the largest in history, raising $25 billion on the New York stock exchange.
At the head of it all is Ma Yun, the 53-year-old entrepreneur known as Jack Ma, who started the company with 17 others and $50,000 in his apartment in Hangzhou, a mid-sized city near China's east coast, known for its green hills and West Lake.
"What Jack Ma has been able to accomplish is nothing short of astounding. It's as impressive, as or more impressive, than the works of Messrs Bezos, Zuckerberg and Musk."
Gil Luria, director of research at DA Davidson Co.
But Ma's childhood was frugal: he was born to a family that had very little, sharing an income of just $7 a month between six. He was 6-years-old when President Richard Nixon met Chairman Mao Zedong in 1972, a "geopolitical earthquake" event which opened up China to the U.S. and led to it becoming the world power it is today. It was also the start of Ma's Chinese dream.
Ma appears at Alibaba's 18th birthday celebration dressed as Michael Jackson in front of 40,000 staff
Ma Yun (known as Jack Ma) born in Hangzhou, China
Graduates from the Hangzhou Normal University with a BA in English
Jack Ma travels to Seattle where he "discovered the internet"
Founds Alibaba Group from his Hangzhou apartment, with 17 others
Raises $20 million from investors, led by SoftBank
Launches Taobao, which is similar to eBay
Founds Alipay, a payment system similar to PayPal
Yahoo invests $1 billion in Alibaba
Launches TMall, which sells branded goods to consumers
Alibaba Cloud is launched
Launches the AliExpress website, where Chinese people can sell goods globally
The Cainiao Network is launched by Alibaba and partners, a logistics system that now ships 55 million packages a day
Ant Financial services is established, parent company to Alipay
Alibaba raises $25 billion on the New York Stock Exchange, the largest initial public offering in history
Launches Alipay Everywhere, which lets people find and pay for services from people nearby, such as running errands
Content production arm Alibaba Pictures closes deal with Steven Spielberg's Amblin Partners
Ma meets meets then President-Elect Donald Trump
Yahoo renames its 15 percent stake in the company Altaba, after Yahoo is bought by Verizon
Alibaba holds inaugural Gateway conference in Detroit, Michigan, to help small businesses sell goods to China
Ma appears at Alibaba's 18th birthday celebration dressed as Michael Jackson in front of 40,000 staff
Ma Yun (known as Jack Ma) born in Hangzhou, China
Alibaba's e-commerce
Includes Alibaba.com, Taobao.com and Tmall.com. The group's combined Chinese commerce businesses had 466 million annual active consumers as of June 30, up 12 million in three months.
His journey from rags to rock star billionaire – Ma appeared on stage dressed as Michael Jackson at Alibaba's 18th birthday party in September 2017 in front of an audience of 40,000 – is beset with failure and rejection. Ma said he was a "loser" in his thirties, insists he isn't a tech expert and was rejected from a job at KFC and as a hotel waiter and was turned down three times when he applied to university. He also claims to have little tech expertise.
"The whole time I worked with him, he always described himself as a tech dummy. And he always said the only two things he could do were emails and use a browser to surf the internet. So he's definitely not a tech guy," former Alibaba Vice President Porter Erisman told CNBC's "The Brave Ones."
Ma's secret? His understanding of the power of the internet in putting buyers and sellers together, and his obsession with helping small companies, via eBay-like marketplace Taobao, bulk supplier 1688.com and Alibaba.com, a business-to-business site for wholesalers. The group also has marketing services and a financial lending affiliate including PayPal-like Alipay, which has 520 million users around the world.
Other ventures include a 51 percent stake in delivery company Cainiao, which ships an astonishing 55 million packages a day, and Alibaba Pictures, a joint venture with Steven Spielberg's Amblin Partners.
"What Jack Ma has been able to accomplish is nothing short of astounding. It's as impressive, as or more impressive, than the works of Messrs (Jeff) Bezos, (Mark) Zuckerberg and (Elon) Musk," Gil Luria, director of research at DA Davidson Co, told CNBC by phone. Ma's net worth is now an estimated $39 billion.
02: 
A small business vision
The first time Jack Ma went online was in 1995. He was at a friend's home in Seattle and he approached the computer gingerly.
"The friend said: 'Don't worry, you're not going to break it. Go ahead and touch it.' And he started searching things on the internet and he realized the power it could have," Erisman said.
"When Alibaba got started, the internet was like trying to sell magic beans to someone"
Porter Erisman, former Alibaba vice president.
What did he search for? China. "But nothing came up. So he said to himself: 'If I can put (a) Chinese company on the internet and allow them to connect with business people in the U.S. and other countries, I could possibly create a really powerful business'," Erisman said.
So Ma — then an English teacher — read U.S. business books to learn about GE, Microsoft, IBM and Wal-mart. "I was so interested in English. People read books, my school mates, they read English just for learning English. I read English, because I learned so many interesting American ideas," Ma told CNBC's "The Brave Ones."
Four years after his first U.S. trip he founded Alibaba, but only three of his coworkers knew anything about technology. "I called myself at that time like a blind man riding on the back of blind tigers. Without knowing anything about technology or computer(s), we start the first company," Ma said, speaking at an Asia Society event in 2009.
Alibaba Cloud
The group's cloud computing arm had more than 1 million paying customers as of June 30, up 137,000 in three months.
The business took relentless salesmanship, according to Erisman. "When Alibaba got started and when I joined the company, trying to sell (to) businesses in China, the internet was like trying to sell magic beans to someone. And here was this guy, this kind of interesting looking English teacher coming door-to-door to try and tell people they should spend their money, several thousands of dollars to put their company on this thing called the internet."
Ma would travel across China on road shows where 100 or 200 people would turn up to listen to him, in a kind of "mass movement" to talk to business owners about why they needed to get online.
He also relied on the power of his personality to convince people to invest. While others gave detailed business plans, he simply stood up and talked about his story and vision, Erisman recalls. The founder of Japanese telecommunication and investment company SoftBank Masayoshi-Son met with Beijing entrepreneurs shortly after Alibaba was founded and was so impressed with Ma he offered him $40 million. But Ma turned it down, famously saying he'd take only half.
Ma's long-term vision is such that he talks about the company lasting 102 years. He told an audience at Alibaba's U.S. Gateway conference in June: "People say, 'Why 102 years?' Because our company was born in 1999. Last year, we had one year. This century, we'll finish 100 years, and next century we will have one year. 102 means across three centuries."
"The only time I ever saw him doubt himself is when he was laying off people."
Porter Erisman, former Alibaba vice president.
Jack Ma was long inspired by Yahoo founder Jerry Yang and the two met when Ma was assigned by his then government employer to show him around Beijing in the 1990s.
"When you look at Alibaba in the early days, a lot of the design of the website and a lot of ways the things were put together, they borrowed from Yahoo. Because Jerry Yang, yes he was an inspiration for Jack."
Porter Erisman, former Alibaba vice president.
Ma built his vision on the American companies he saw succeeding like Yahoo and eBay, and moved its main operations to Silicon Valley around the year 2000 because he had been convinced that was the best way to build a global business. But it was a "disaster" Erisman said. Alibaba could not find the right people, Ma told a U.S. audience at the company's Gateway conference in June.
"Because it is so difficult to hire people who know trade in the Silicon Valley, San Francisco. So instead we hire people from New York, Miami, all arriving in San Francisco. After one month or two months, we realized that something (was) wrong …. because those people, they know trade, but they don't know anything about internet. Those people that do not know internet, they do not know anything about trade." Staff were offered cash or shares as compensation, and all opted for cash. "So we have a lot of mistakes we made, and a lot of colleagues also made mistakes," Ma said.
That moment was one of the hardest for Ma. "During that time, I got a really strange call from Jack. He said: 'Porter, do you think I'm a good person?'," Erisman said. "And I was a little bit confused. Because here was our CEO who I'd never seen doubt himself," he said. This was the moment Ma transformed from his English-teacher mentality into a CEO.
"He realized as an English teacher you almost never have to say no. But as a CEO, you need to make the tough decisions. And in that case, bringing our company back to China was the tough decision that Jack Ma had to make."
In 2003, Alibaba decided to launch an eBay-type marketplace: Taobao. To start with, it was a defensive move to slow down the American company's march to China. "Listen, we've got a secret project. You're going to have to go back to the original Alibaba apartment," Ma told staff, Erisman recalls. "You're going to have to work in seclusion. You can't tell your friends. You can't tell your family. You can't even tell the other Alibaba employees about this." The condition was that they resigned from Alibaba – and they did so without even knowing what the project was.
"Social responsibility is the key. Whatever we do, we try to make sure that the society is good."
Jack Ma
Taobao's major difference was that it didn't charge sellers or buyers commission, so didn't have a revenue model to start with. But Ma was convinced that if you put buyers and sellers together, and the sellers made money, then the site itself would too.
"And eBay's reaction was to put out a press release saying: 'Free is not a business model.' But in fact, we knew that because we were getting so many people onto Taobao because we were free in the early days. Ultimately, we could make money," Erisman said.
There was talk of a partnership with eBay, but then Ma shocked the business world by doing a deal with Yahoo in 2005, where the American company invested $1 billion in Alibaba. But ultimately, it didn't work, Erisman said. "The underlying politics of the two countries were sort of destined to rip the companies apart. You can't have a U.S. company like Yahoo that reports up to a sort of a Western set of ideals, really partnering on an equal basis with a Chinese company that has to conform to the Chinese political regulations." There was also a dispute with Yahoo in 2011 when it accused Ma of transferring ownership of Alipay to his own entity, without telling shareholders.
After Verizon's acquisition of Yahoo completed in June 2017, Yahoo renamed its remaining assets — including its stake in Alibaba — Altaba.
Alibaba also has an advantage because of huge U.S. tech companies including Google and Facebook being blocked in China (although both are said to be hoping to enter the country next year), but the Chinese government is also a threat to its own business people. Anbang Insurance Chairman Wu Xiaohui was said to be "detained," in June, possibly due to his links with the U.S. Is that something Ma is concerned about?
"Well, I think, as businesspeople, me, I do everything to make sure that I'm (keeping) my customers happy, employees happy, the society is good. It's healthy. Social responsibility is the key. Whatever we do, we try to make sure that the society is good. So I don't know what's going on with the others," he told "The Brave Ones."
Ma talks about three things "you should not touch": money, power and glory. "If you keep the power in your office, you will be in trouble. If you keep the money in your own pocket, you will be in trouble. If you put the glory in your hand, you will be in trouble. So when you have the money, spend the money supporting more people. When you are in power, empower the others. When the glory, (make sure) the other people have that. Then you will be happy."
Alibaba's initiatives
This year has seen Alibaba push boundaries in fashion, payments and research. In June, its Alipay affiliate launched a "smile to pay" service at KFC outlets in China, using facial recognition technology, and in October it filmed its "See Now Buy Now" fashion show for its Tmall website. Footage from the show was broadcast on TV as well as Alibaba's Youku site last month for people to pre-order ahead of a shopping festival on November 11. In October Jack Ma also launched the Alibaba DAMO Academy, a $15 billion tech research lab covering the internet of things and quantum computing, emulating similar initiatives from IBM and Microsoft.
Go with the flow
Jack Ma started studying tai chi in 1988, and applies some of its teaching to"everything from daily life decisions to business strategy and management," according to a statement on Alizila, Alibaba's news website. "As I realized over time, Jack Ma's leadership style was all about going with the flow, not having rigid plans. Instead, you face the things that come to (you) as they arrive," Alibaba's former Vice President Porter Erisman told "The Brave Ones." Ma is such a fan of tai chi that he will feature in a short film with martial arts stars including Jet Li, to be broadcast in November on Youku, Alibaba's video streaming site.
Search for "lobster" on Alibaba.com and more than 1,200 products come up, from a red Canadian variety costing upwards of $1,100 per metric ton that ships live from the U.S., to frozen lobster tails for $195-plus. If a Chinese customer wants fresh cherries, they can get them sent from a company in Maryland for $300-$500 a ton.
But Ma wants more: Earlier this year he went on a charm drive in the U.S., meeting the then President-Elect Donald Trump in January where the two were pictured smiling outside Trump Tower in New York City. He said the two discussed Alibaba's plans to support 1 million American jobs over the next five years and he wants "made in America" to sell to China, he told CNBC anchor David Faber for "The Brave Ones," in June.
"(There are) 300 million middle class (people in China). They need high-quality products, high-quality services. So I think, when Donald Trump said: 'We want made in America,' tell me, made in America, which country did you sell (to)? Africa? Latin America? (The answer is) China. So I think 'made in America' should sell to China."
Ma sees a sea change in the way goods are consumed around the world. "I say, past 30 years, the domestic consumption of the United States drives the global economy and supports so many small businesses in America or China to sell things globally. Today, next 30 years, the domestic demand and power of China is going to drive millions and millions of small businesses globally," he told Faber.
"Our mission is to allow those who have fun shopping at Alibaba to truly live at Alibaba"
Yu Yongfu, chairman and CEO of Alibaba Group's digital media and entertainment division.
But Ma is also worried about a world where artificial intelligence and robots take people's jobs – and businesses must adapt. He is likely to fly for 1,000 hours next year, he said. "This is why I'm traveling, talking to all the government and state leaders and telling them move fast. If they do not move fast, there's going to be trouble. When we see something is coming, we have to prepare now. My belief is that you have to repair the roof while it is still functioning."
He warned that while large businesses currently dominate industry, the next century will be more about smaller companies. "The next 30, 100 years, personalized, custom-made is the future. So I think the challenge of this technology is to a lot of big companies.
"So how we can empower the small businesses? You know, the small businesses, not only (can) they only sell things to their village or their own country or even their city. With the power of the internet, we can help them sell across the board."
Alibaba digital media and entertainment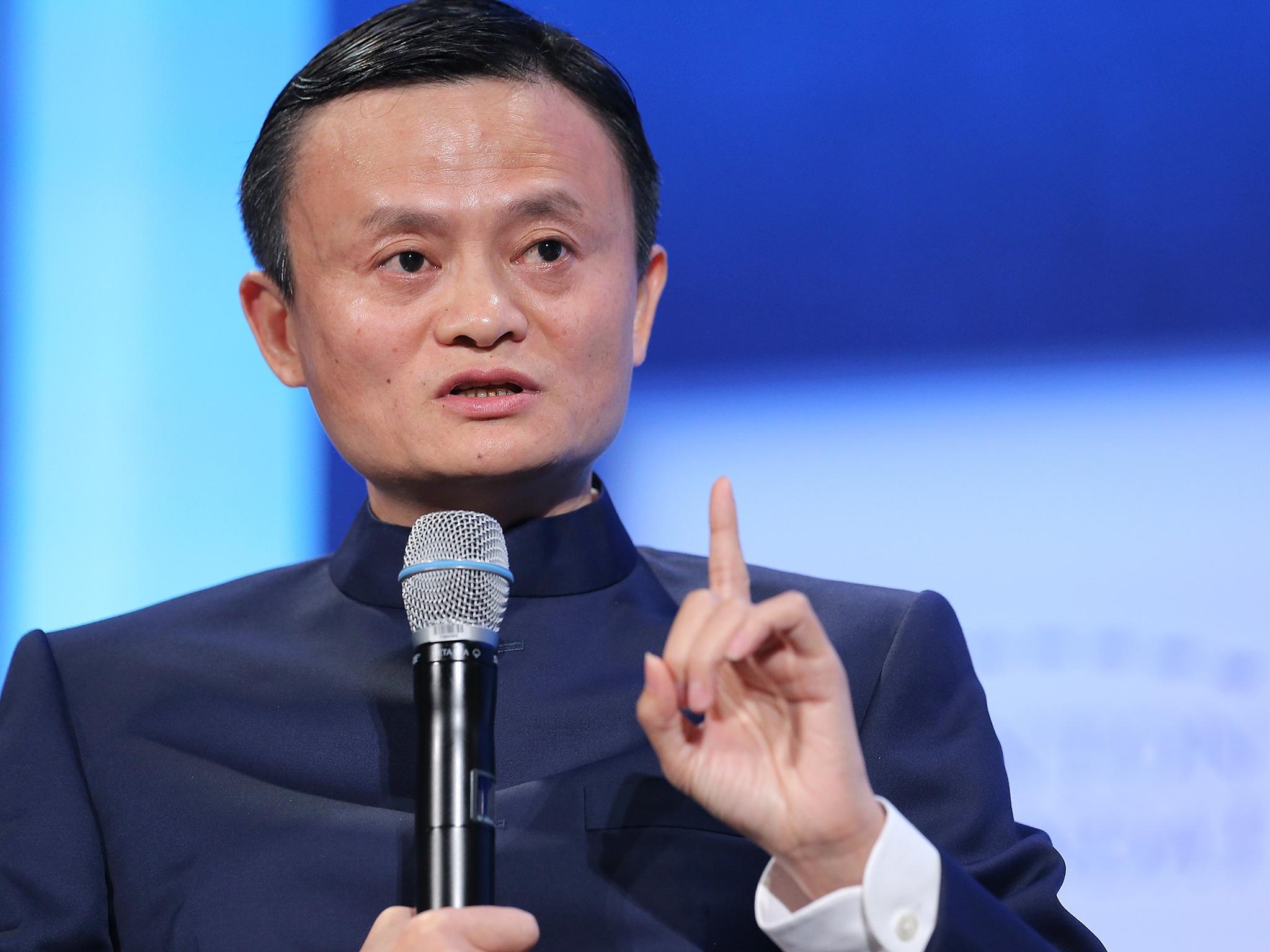 The Youku video platform, which shows original as well as licensed content, saw a 100 percent uplift in daily average subscribers year-over-year in the quarter ended June 30, but the company does not break out numbers. Alibaba's mobile browser UCWeb helped to drive a 30 percent revenue increase to $600 million in the digital media business in the quarter to June 30.
For Alibaba, as for Amazon, the future is not just about e-commerce. Alibaba's cloud computing division made a modest $968 million in revenue in the year to the end of March 2017, up 121 percent year-on-year, while its digital media and entertainment businesses including YouTube-style site Youku Tudou and event ticketing agency Damai took $2.1 billion, up 271 percent.
The aim is for people to spend more of their waking moments on the platform, according to Alibaba's digital and entertainment chair and CEO Yu Youngfu. "To put it simply, our mission is to allow those who have fun shopping at Alibaba to truly live at Alibaba. So in addition to shopping, we would like them to spend more time watching videos with us, getting information from us and listening to music with us, to come and game with us, among many other things," he said at an investor day in June.
Alibaba also announced a partnership with Steven Spielberg's movie production company Amblin Partners in October 2016. Alibaba Pictures is 49.5 percent owned by Alibaba Group, and will be creating its own content as well as distributing it in China.
Other types of business may follow, Luria said, such as a QVC-style shopping site that might combine with a Netflix-type offering.
"Cloud is obviously something that they have followed Amazon's blueprint but in social media, they are trying to combine commerce with social media in a way that we don't really have a familiarity with in the West. So it would be more of a combination of Facebook and Amazon in that regard," Luria told CNBC by phone.
"Alibaba sees its scope far more broadly than, say, Amazon and eBay would. They see their scope as more like the combination of of Amazon, Facebook, Google and Netflix."
– https://www.cnbc.com
.