BOMBSHELL – MALAY TIDE TURNS: EVEN PERKASA YOUTH CHIEFS JOINS PKR – 'THE ISSUE NOW IS UMNO DOESN'T HAVE A LEADER OF PRESTIGE'
Former Perkasa Youth chief Irwan Fahmi Ideris has joined PKR, with the hope of toppling Prime Minister Najib Abdul Razak through the opposition.
Irwan, together with 35 Perkasa Youth executive council members and ordinary members, submitted their application forms to PKR Youth deputy chief Dr Afif Bahardin at the party's headquarters in Petaling Jaya this morning.
Later, Afif put PKR's badge on Irwan's collar to welcome into PKR.
However, he still maintains his membership in Perkasa despite cutting ties with Umno. Irwan was previously an Ipoh Barat Umno division member.
He was Perkasa youth chief since 2010, before leaving the post in 2016.
Irwan claimed he has been pushing for Najib's resignation since August 2013, but the increasing precariousness of Malaysia's economy and Malay rights recently prompted him to join the federal opposition.
"Now who has betrayed the Malays? Even Malay reserve land was sold off. Is this DAP's fault? Who rules the country? Who has betrayed whom?" he asked.
Asked why has was not staying on with Perkasa instead to topple Najib, Irwan (photo) said the best platform to do so with an opposition political party.
"Perkasa is only a NGO, if we want to fight against Najib, we must stand together with a political party… But I am still a Perkasa member, just not holding any position," he said.
Afif: PKR also fights for the Malays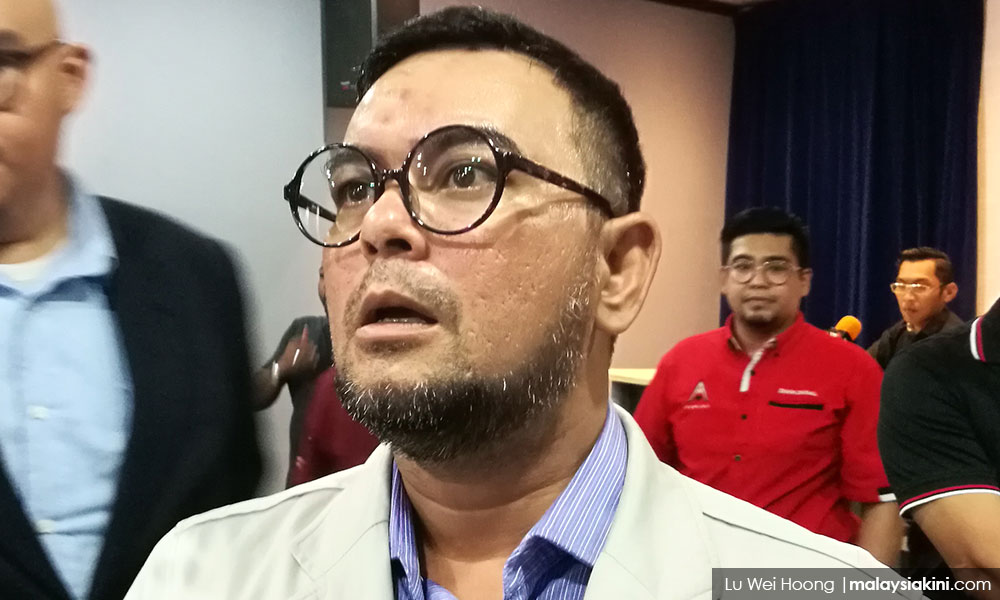 Asked why he did not decide to join Parti Pribumi Bersatu Malaysia (Bersatu), a more Malay-centric party rather than PKR, Afif helped Irwan to answer by saying that PKR also fights for the Malays.
Afif, who is a Penang state executive councillor, said PKR and Pakatan Harapan respect the Federal Constitution and the Malay bumiputera position.
"There is no liberal or right-wing Malay. The issue now is that Umno doesn't have a leader of prestige. Now, who is so proud to say Najib is our prime minister?
"Except for Umno members, who others dare to wear the Najib cloth?" Afif added.
He then went on to praise Irwan's participation in PKR, hoping that Irwan would help the party to spread the Refomasi message among the Perkasa members.
"PKR is an inclusive party. As long as one appreciates the Reformasi agenda, he can join the party. Perkasa currently has 700,000 members and Irwan can give PKR a chance to explain Refomasi to the other Perkasa members.
"Whether you are a Perkasa member or not, we need the support of the whole nation," Afif added.
The other Perkasa leaders who joined PKR today were former Perkasa Youth vice-chief Syamzari Putera Mohd Noh, former Youth exco members Muhammad Hafiz Zulkifly and Zulkarnain Haron and incumbent Youth assistant secretary Muhammad Zaihuruddin Zulkamar.
– M'kini
.