BN IMPLODES: 'WHO DID THE WORK – UMNO DID' – ZAHID PUBLICLY SHAMES MCA, CONFIRMS DAP'S ACCUSATIONS LIOW & CO CAN ONLY WIN BY THE GRACE OF MALAY VOTES
Deputy Prime Minister Ahmad Zahid Hamidi, who is also deputy BN chairperson, has again ticked off MCA over its electoral preparations.
Speaking in Rembau today, Zahid criticised Negeri Sembilan MCA for failing to send a representative to a BN event.
"Where is the MCA representative? There is not a single one. There is MIC, Gerakan, myPPP, but not MCA.
"Please show your face in the parliamentary constituency of Rembau even though you are contesting elsewhere.
"Help our candidate. You want seats (to contest in), but you don't attend our programmes," he was quoted as saying by BN Backbenchers Council portal.
The incumbent in Rembau is Umno Youth chief Khairy Jamaluddin.
The parliamentary constituency has four state seats, namely Paroi, Chembong, Rantau and Kota, all of which are also contested by Umno.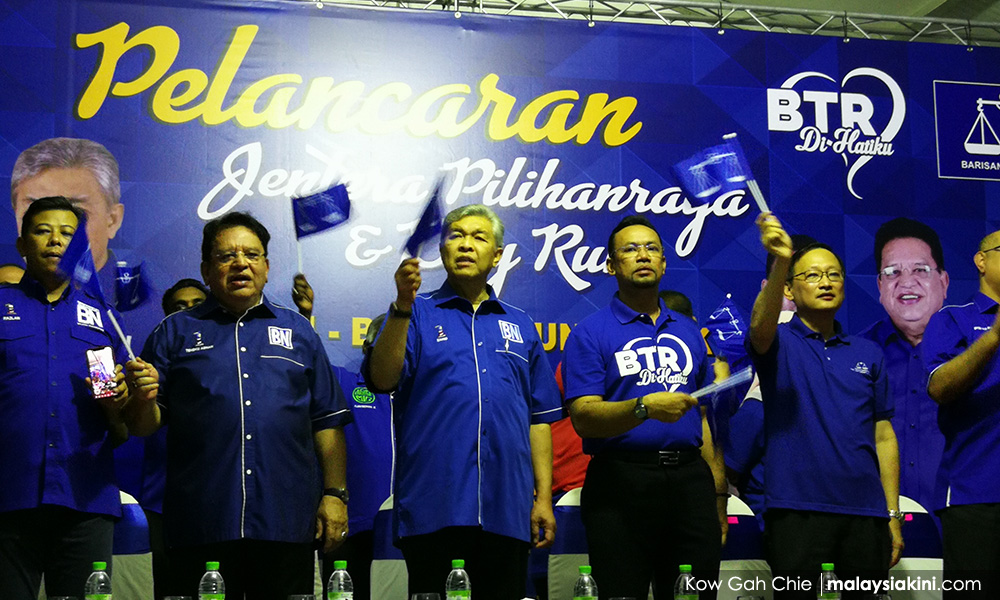 When Zahid visited the parliamentary constituency of Bandar Tun Razak yesterday, he also ticked off the local MCA division.
"Twice we have given MCA this seat, isn't that true?
"Who did the work? Umno did," he had said.
Bandar Tun Razak is a traditional MCA parliamentary seat, but the party lost the constituency in the 2008 and 2013 election.
Umno has been lobbying to contest in the Malay-majority constituency.
The seat was won by Abdul Khalid Ibrahim, then under PKR, in the last two general elections.
However, Khalid was later sacked from the party, and has since stated that he has no intention of defending the seat.
– M'kini
.