BIG SHOCK FOR UMNO – EVEN PAK LAH'S KEPALA BATAS READY TO FALL TO DR M'S BERSATU: SHOUTS OF 'HIDUP TUN' RING OUT DESPITE TALK OF POOR RESPONSE
The sleepy town of Kepala Batas, Penang, the stronghold of Malaysia's fifth prime minister Abdullah Ahmad Badawi (Pak Lah), came alive last night with the strong presence of Parti Pribumi Bersatu Malaysia leaders and their supporters.
Dubbed '3M', Bersatu chairperson Dr Mahathir Mohamad, president Muhyiddin Yassin and his deputy Mukhriz Mahathir, were in top form last night as they appealed to the Kepala Batas folk to vote Pakatan Harapan.
"Don't let the country be ruled by "penyanggak, penyamun and pencuri (thugs, robbers and thieves)," said Mahathir.
Mahathir is on a mission to topple Prime Minister Najib Abdul Razak at the coming 14th national polls, with Muhyiddin describing the 1MDB scandal as the "worst financial crisis in the world", not just Malaysia.
During his speech, Mahathir promised to restore the country to the days before Najib's and Abdullah's rule.
When the crowd cried "Hidup Tun (Long Live Tun)", Mahathir reminded them that he was already 92, "an old man".
"I can't speak or stand too long anymore but then, if you ask me, I still can do a lot of work," he said to cheers from his fans.
Mahathir dismissed claims of lack of support for Bersatu, denying that locals would not turn up for the party's 'Jelajah Semarak, Selamatkan Malaysia, Selamatkan Rakyat" event which kicked off in Kepala Batas last night.
Mahathir, the country's illustrious fourth premier, said: "I don't see anyone yawning as reported by an internet portal".
The news portal, after speaking to only a handful, claimed local folks lacked interest in the Bersatu ceramah.
"People are here because their lives are hard, they want to hear us speak, we don't have to pay anyone to come to our events," said the newly minted Pakatan Harapan chairperson.
"Everywhere we go, the crowd is like this, and recently in Kelantan, 12,000 people turned up to hear us speak," claimed the good doctor, referring to the 2,000 strong crowd at the ceramah last night.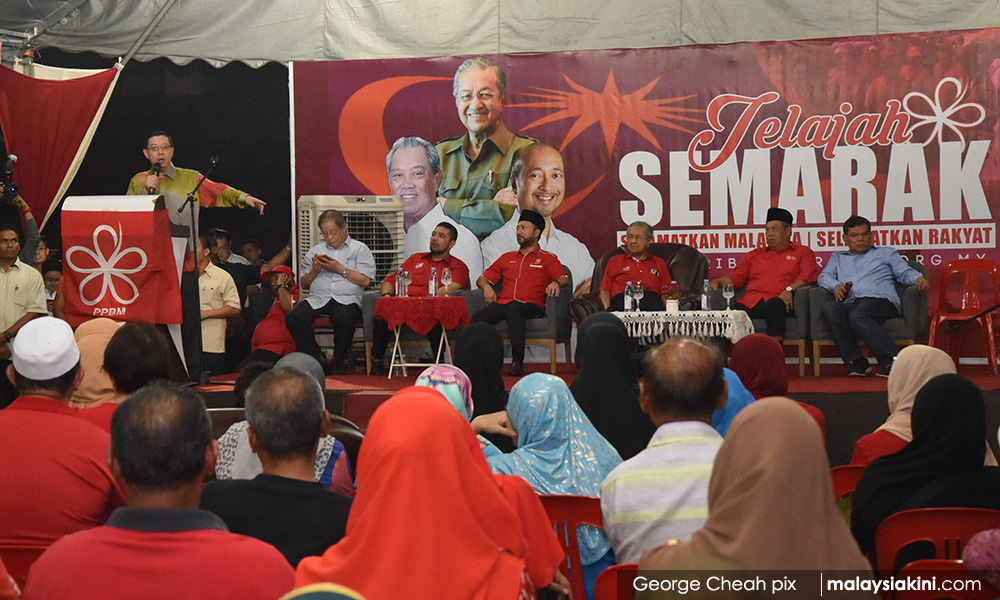 Mahathir then took a dig at Najib's record breaking "sitting cross- legged" for lunch with about 20,000 folks in Permatang Pauh on Thursday.
"Who will go for his event if he does not pay them? If they are not paid, people will not turn up for his programme," alleged Mahathir.
He also claimed that it was Najib who now lacks support, citing a recent incident where the premier met up with army veterans in a closed door pow wow.
"He invited 200,000 army veterans but only about 20,000 came, when he (Najib) started speaking, there was a blackout and one by one those people left the room," said Mahathir, drawing laughter from the crowd.
Meanwhile, security was tight at the three-hour programme last night, with Penang Chief Minister Lim Guan Eng thanking the police for a peaceful night.
Lim said he had to cancel his meeting in Sabah so that he could attend the Bersatu function.
"I was afraid that the incident of flying chairs and slippers would repeat, but don't worry, Penangites are not like that, we are peaceful people," he quipped.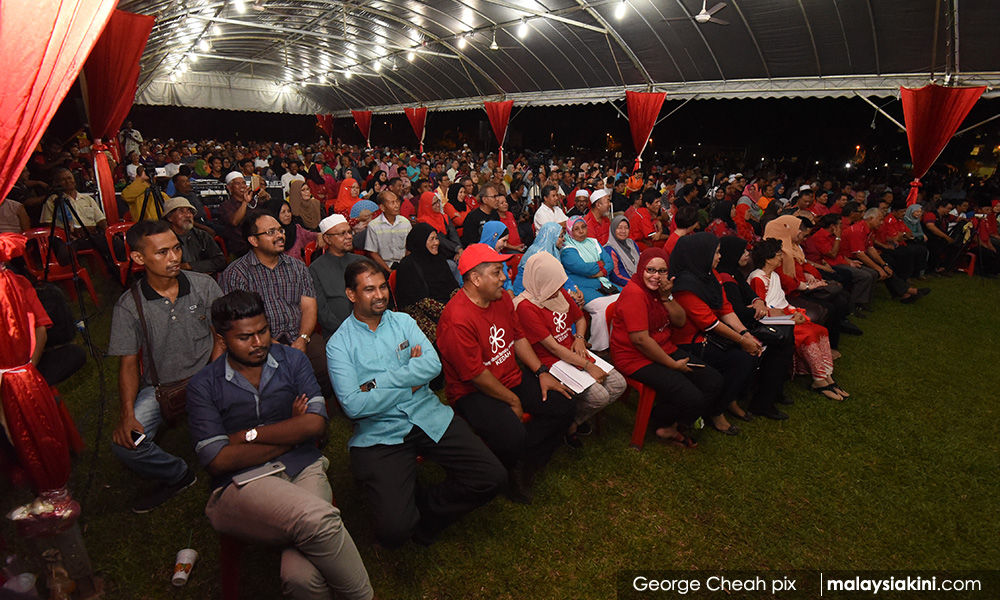 Even so, a small commotion erupted as Mahathir was leaving the event when Bersatu security corps halted two hardcore supporters from approaching him.
It is learnt that the two men wanted to "hug" and snap photos with Mahathir but the guards were cautious as they did not want to see a repeat of the Shah Alam "Nothing to Hide 2" incident where slippers and chairs flew when Mahathir responded to a question on the Memali farmer's uprising in the 1980s.
Other than the "3M", Lim, PKR secretary-general Saifuddin Nasution Ismail and Bersatu Penang chief Marzuki Yahya spoke at the ceramah, which ended with a gimmick of Mahathir releasing colourful balloons symbolising the four Harapan allies.
Also present was DAP Gelang Patah MP, who sat on stage but did not speak.
MKINI
.