BERSATU GENERALS MAHATHIR, MUHYIDDIN & MUKHRIZ STIR UNEASE IN THE HEART OF UMNO
In Sun Tzu's 'Art of War', the renowned Chinese military strategist wrote that "if you know the enemy and know yourself, you need not fear the result of a hundred battles."
This appears to be Pakatan Harapan's approach in placing Parti Pribumi Bersatu Malaysia (Bersatu) in charge of capturing Umno-led battleground states Johor, Perak, and Kedah.
Two of the battleground generals, Muhyiddin Yassin in Johor and Mukhriz Mahathir in Kedah, are seasoned veterans who could use their past experience in the ruling Malay party to turn the tide in Harapan's favour.
But the man entrusted to lead the charge in Perak, state Bersatu chief Ahmad Faizal Azumu, has never fought in an election.
A Harapan insider told Malaysiakini that Bersatu wasn't the obvious choice when deciding who would lead Perak.
It was initially a toss between PKR, Amanah and Bersatu.
Amanah and PKR both had a claim over Perak by virtue of having contested – in Amanah's case through its predecessor PAS – the most number of state seats in the 2013 election, at 21 and 20 respectively.
However both PKR and PAS only won five seats each.
Hence, in an effort to turn their fates around in the next election, those familiar with negotiations within Harapan said the coalition unanimously decided that Ahmad Faizal would lead Harapan in the state.
While Ahmad Faizal has never contested in an election, he is by no means politically inexperienced, and received glowing reviews from his allies.
Former Perak menteri besar Nizar Jamaluddin said Ahmad Faizal had proven his mettle by keeping the state Bersatu from falling apart due to internal struggles earlier this year.
As a former Ipoh Barat Umno Youth chief, Nizar said Ahmad Faizal would also not be plagued by accusations of being a DAP stooge – an Umno strategy the Amanah leader himself suffers from.
"This will break Umno's attacks against Harapan…the arguments (about being a DAP stooge) would fall apart on its own with Ahmad Faizal and Bersatu at the helm," Nizar told Malaysiakini.
DAP is the dominant opposition force in Perak having won 18 seats in 2008, and again in 2013.
However, due to the taboo of a Chinese-dominated party leading the state, DAP had agreed to let its partners take charge in Perak instead – a move which inadvertently painted Nizar as the party's puppet in 2008.
Meanwhile, Perak DAP chief Nga Kor Ming said Ahmad Faizal would appeal to voters traditionally aligned to Umno, as he is the son of a former senator, as well as the son-in-law of an ex-Umno assemblyperson.
"Being a former civil servant, he also understands the sentiments of the civil service and will be able to attract support from the civil servants and the Malay community, which is crucial for Harapan to recapture Perak," Nga added.
While Harapan has full faith in Ahmad Faizal, whether the Perak Bersatu chief is a potential menteri besar candidate has yet to be determined.
Coalition insiders said that those named as state Harapan chairpersons may not necessarily be the person to lead a state administration should BN be defeated.
Johor general obvious choice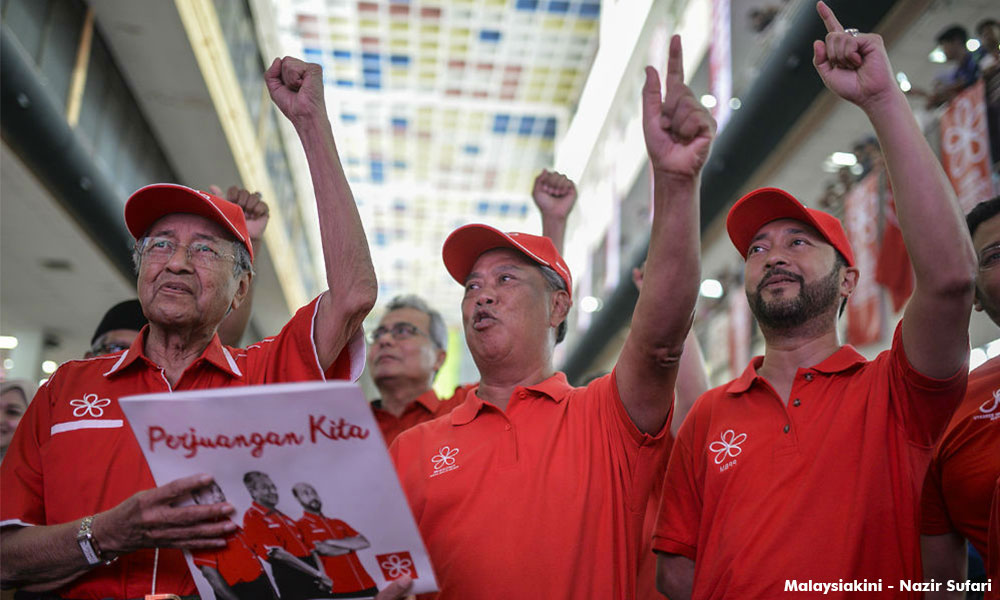 Meanwhile in Johor, the choice of Muhyiddin as battle commander appears to be an obvious choice.
As a former menteri besar and former Umno deputy president, Muhyiddin has the most clout in Johor to win over Malays who traditionally supported Umno.
Amanah, which had previously been slated to be the main contender for Malay seats in Johor, appears to be well aware of this.
In a study by analyst Wan Saiful Wan Jan, Amanah had indicated that it would not mind Bersatu leading the campaign, and felt the latter stood a chance at winning if it contested in a "respectable number" of Malay-majority seats.
And just like in Perak, Amanah had also indicated that having Bersatu play a major role in Johor would offset DAP's perceived dominance in the state.
Similar to Muhyiddin, Kedah Harapan chief and Bersatu deputy president Mukhriz is also a former menteri besar, and still has considerable influence in the state.
With his father and political titan Dr Mahathir Mohamad behind Mukhriz, Bersatu would have a unique advantage in a state where PAS and Umno have been jostling for control since 2008.
Besides the three battleground states, Bersatu is also heading Harapan in Perlis, with state party chief Ameir Hassan in charge.
Ameir was once the political secretary to former Perlis menteri besar Md Isa Sabu.
Bersatu information chief Kamaruddin Md Noor said Mukhriz will be assisting efforts in Perlis, due to its close geographic proximity to Kedah.
– M'kini
.