BELIEVE IT OR NOT, SINGAPORE'S WORST STOCK WAS ONCE BIGGER THAN NEW YORK TIMES
Singapore Press, like most news publishers, is grappling with digital disruption that has eroded readership and print ads. Profits have fallen for six consecutive quarters including the most recent's 45 percent year-on-year slide. The company declined to comment on queries about its business outlook and diversification plans relating to the decline in stock prices and challenges in the global publishing industry.
While diversification into property, telecommunications and events management has slowed Singapore Press' earnings decline, analysts say those businesses aren't having enough of an impact on its overall performance.
"These investments are capital-intensive and could weigh on the company's ability to pay dividends," said Ngoh Yi Sin, an analyst at CIMB Securities Ltd., who downgraded the stock to 'reduce' last week. "Some of them have not attained sufficient scale to contribute meaningfully to its bottomline."
Singapore Press' property unit contributed 45 percent its pretax income in the year ended August 2016, though only accounting for about a fifth of total revenue. In contrast, the media segment brought in three quarters of revenue, while only adding 49 percent of pretax earnings.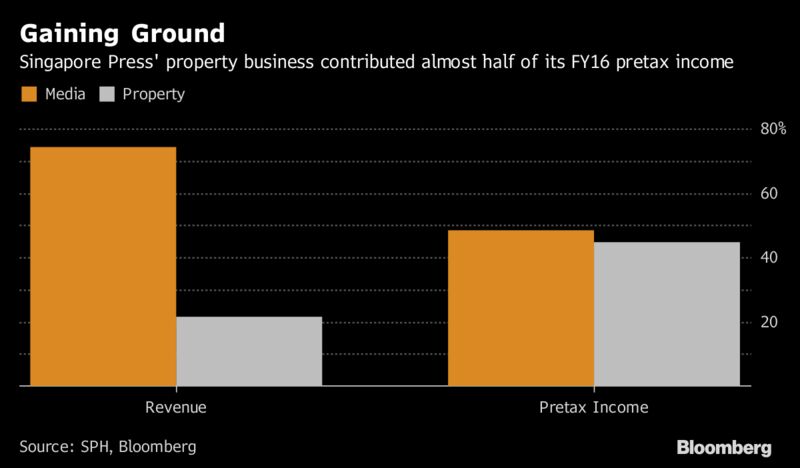 CIMB's Ngoh says she needs to see media earnings bottoming out or the publisher articulate a clearer strategy for its core business before she changes her mind on the stock.
Singapore Press undertook a "comprehensive review" of its core media business that started last year.
Stepping up efforts to grow non-media revenue streams, Singapore Press, also the world's fourth-largest publishing company, last month sold its minority stakes in businesses owned by its main Singapore news rival Mediacorp.
In April, Singapore Press bought a local nursing-home operator for S$164 million, saying the deal was its entry into the health-care sector. MindChamps Preschool, an early childhood education provider that Singapore Press owns a 22 percent stake in, might be near a initial public offering valued at S$200 million.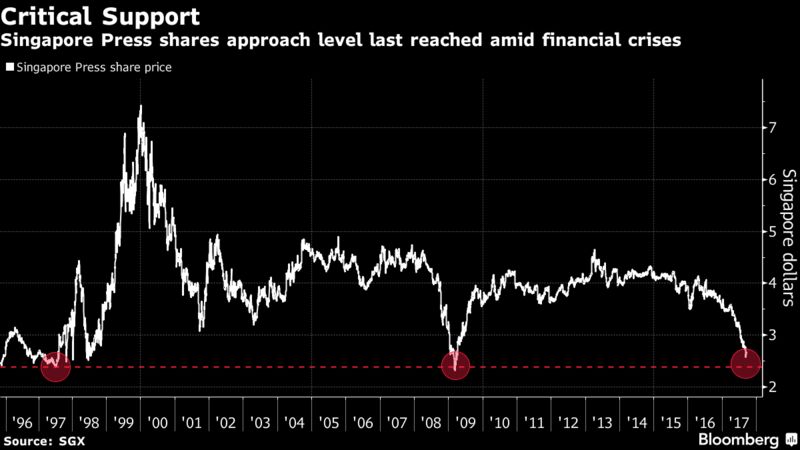 Cost discipline remains a focus. The company merged two existing newspapers and announced plans last year to cut as much as 10 percent of its workforce over the next two years.
"There are vast opportunities that can be reaped despite these challenges facing us," newly installed Chief Executive Officer Ng Yat Chung, who was Singapore's chief of defence between July 2003 to April 2007, said in a statement on May 26.
– https://www.bloomberg.com
.