BEHIND THE HARAPAN VEIL: ALWAYS HARDWORKING, ALWAYS DISCIPLINED, MAHATHIR IMPRESSES FORMER FOES WITH HIS FOCUS ON WINNING GE14
MANY remember Dr Mahathir Mohamad to be a dictator, or "mahafiraun". But after months in the Pakatan Harapan coalition, a picture is emerging of Dr Mahathir, the democrat.
Gone is the strongman who would bulldoze his agenda through, over his political friend and foes alike – the Dr Mahathir who led Umno and Barisan Nasional for 22 years, said Pakatan leaders.
These leaders include people such as Khalid Samad, whom Dr Mahathir had jailed in 1987 during Ops Lalang.
But the dynamics between the opposition leaders and the man they once nicknamed "mahafiraun",  after the tyrannical pharaohs of the Quran and the Bible, have changed.4
They told the Malaysian Insight that in the meetings Dr Mahathir has chaired with them, the former prime minister has embraced the coalition's philosophy that all parties are created equal.
There is maximum room for debate and all have a say in the decision-making.
And the 92-year-old chairman brings to the table the steely focus and energy that a coalition facing a daunting election battle sorely needs.
Dr Mahathir's elder statesman role is also boosting Pakatan's image among Malay Muslims, who in the past, have been sceptical of the opposition, said Khalid.
Although there is undeniably bad blood between Pakatan leaders and Dr Mahathir, that animosity is being set aside in pursuit of a bigger goal – bringing down BN and Prime Minister Najib Razak in the polls.
"We are not his apologists. We have not forgotten the past and we will continue to speak up about righting those wrongs," said another Pakatan leader Rafizi Ramli of PKR.
"But I don't think there is much room for personal emotions when we are responsible for bringing change to this country.
"We have to be objective. It's not about our personal feelings, but what we need to do."
Focus and discipline
In July, Dr Mahathir was appointed chairman of the presidential council of the Pakatan, which is made up of parties Bersatu (which Dr Mahathir heads), PKR, DAP and Amanah.
Unlike BN, where the chairman is the chief of that coalition, power in the Pakatan council is shared among de facto leader Anwar Ibrahim and president Dr Wan Azizah Wan Ismail.
The principle of equality between all parties and the need for everyone to work together as partners is the difference between BN that Dr Mahathir is getting used to, said Rafizi.
"He is getting used to the fact that we are a noisy lot in Pakatan. There are differences of opinion between us but we treat him as a colleague," said Rafizi, Who is PKR vice-president and a regular at presidential council meetings.
"I'm probably the most vocal but he does not treat me with contempt. He realises the value I have and he acts fairly to everyone and allows everyone to have their say."
Though debates are a constant at these meetings, said Anthony Loke of the DAP, Dr Mahathir as chairman manages to instill a discipline that keeps everyone moving along to complete the coalition's business.
"He has a good work ethic. He is punctual, very focused and results-based," said Loke, who is DAP organising secretary.
"He gives rooms to air opinions, he gives his own opinions. But he insists that we all have to work out a decision by the end of the meeting."
This focus is also evident in public, said Khalid of Amanah, as Dr Mahathir tries to steer attention away from issues that can be divisive.
"There are issues such as the prime minister designate, the shadow cabinet which can emerge in public. And he gives statements that refocuses attention on winning the election," said Khalid, who is Amanah communications chief.
Effecting change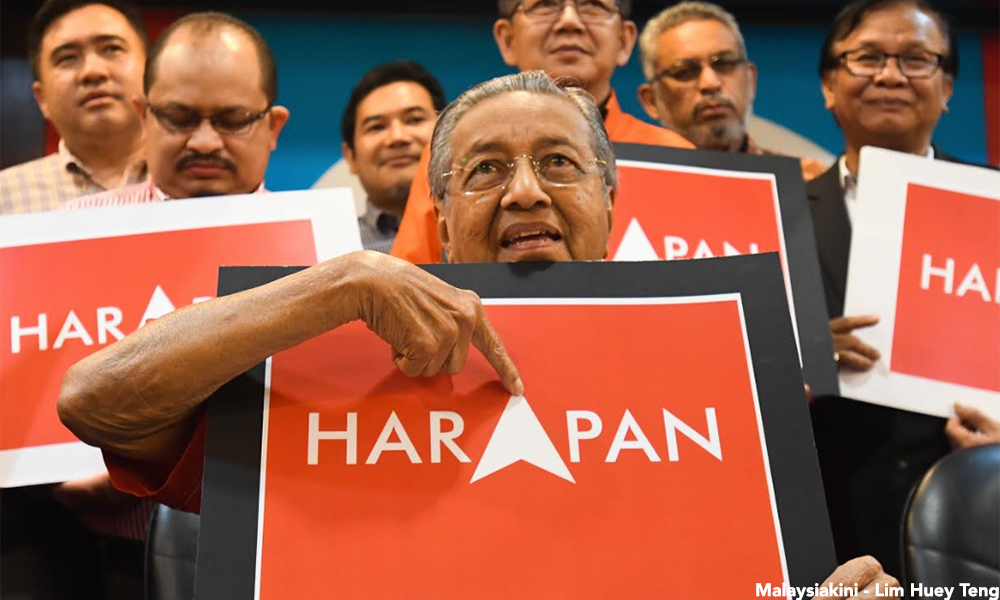 One unintended impact of Dr Mahathir in Pakatan is the way he is trying to change the political culture among members of his own party Bersatu and Malay Muslims who are used to supporting Umno, said Khalid.
"In Dr Mahathir's speeches he stresses the value of cooperation and working together and setting aside differences," said Khalid.
Although many assume that Dr Mahathir is talking about bridging the ideological gap between Pakatan's different parties, his real target audience is ex-Umno members who are used to how things are done in BN.
"Because this is nothing new to us in Pakatan, we've been doing this for years, but is new for Bersatu," said Khalid.
In the ruling coalition, Umno contests the lion share of seats in every election, thus making it the coalition's main driver.
In Pakatan, each party is likely to get about 50 of the total 222 parliamentary seats to contest as equal partners, said Khalid.
Dr Mahathir is taking Pakatan's reform agenda to an audience that has traditionally voted for Umno, and changing the tone of politics in the country in the process.
And it is Dr Mahathir's ability to effect that change that has allowed opposition leaders such as Khalid to put the history they have with Dr Mahathir behind them.
"If he can help change the country's political culture, we are willing to put aside whatever personal vendettas we may have."
– https://www.themalaysianinsight.com/
.