BACKDOOR TAKEOVER OF ANWAR'S PARTY? NAJIB CAMP REVEALS KIT SIANG'S 'BRILLIANT MOVE' TO PIP MAHATHIR FROM SEIZING CONTROL OF PKR
Pribumi and PAN are lame ducks. The only other party in Pakatan worth talking about, other than DAP,  is PKR. But Mahathir will soon control PKR once Azmin ousts Wan Azizah and takes over as President. So, before that happens, Kit Siang wants to control half of PKR through Saifuddin. And that happened yesterday without many people realising what was going on.
The fact that Tun Dr Mahathir Mohamad has killed off Anwar Ibrahim is indisputable. No one talks about him anymore or considers him relevant in the bigger scheme of things. Even the Financial Times Confidential Research team did not mention Anwar in their latest analysis on Malaysian politics — which predicted that Prime Minister Najib Tun Razak is going to do well in the coming general election and which they predicted would be held in the third quarter of this year.
Anwar's political demise, if we could call it that, has given Selangor Besar Azmin Ali the edge over PKR party president Dr Wan Azizah Wan Ismail and her daughter, Nurul Izzah Anwar. Now Azmin can take his time and demolish the mother and daughter at his leisure.
Mahathir controls PKR through Azmin and now Anwar and family are footnotes in history
Azmin will have to wait another two weeks, though, when Anwar's appeal on his pardon is decided by the court. Once the court closes the door on Anwar for good, he will be reduced to a footnote in history and would no longer be seen as a mover and shaker of Malaysian politics.
Anwar's wife and daughter to follow him into the political wilderness after 18th January 2017
With Anwar, Wan Azizah and Nurul sent to pasture, the battle royale would be between Azmin and his detractors. And leading that team of detractors is Saifuddin Nasution, who has just been appointed Penang Chief Minister Lim Guan Eng's strategic advisor.
Saifuddin has always hated Azmin and he makes no secret of that. In 2008, Saifuddin was so pissed with Azmin that he sulked and left the party to join the PAS government in Kelantan. In 2010, when Anwar coaxed him to return to PKR, Saifuddin set his terms, one of which was to be made the party Secretary General so that he would be equal in power to Azmin, the election director.
In 2014, Saifuddin vacated his post to run for the party's deputy presidency, but was defeated by Azmin. He was then replaced with Rafizi Ramli and this, again, made Saifuddin mad as hell because that more or less placed Rafizi above him. Since 2014 Saifuddin has been one very unhappy person who whacks Anwar, Wan Azizah and Azmin at the slightest provocation.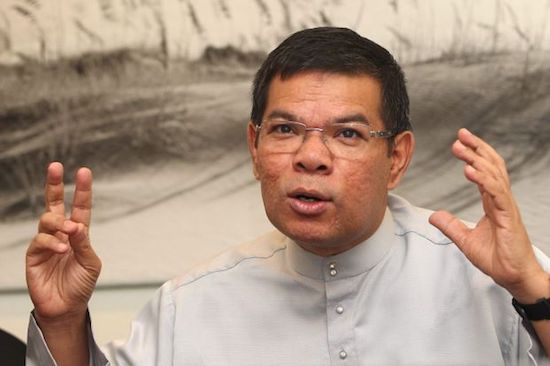 Saifuddin hates Azmin and sulked in 2008 because Anwar favoured Azmin over him but returned in 2010 when made the party Secretary General
And this extremely discontented Saifuddin is a most appropriate candidate for DAP. Lim Kit Siang knows that Saifuddin is on the verge of leaving PKR, yet again, if he continues to be treated secondary to Azmin and Rafizi. When that happened earlier in 2008, Saifuddin left PKR to work for Kelantan Menteri Besar Nik Aziz Nik Mat. Now he is working for Penang Chief Minister Lim Guan Eng. But DAP does not want him to leave PKR, though. They have bigger plans for him.
Kit Siang has made a deal with Mahathir but he knows better than to allow the old man to have total control of PKR through Azmin. PAN and Pribumi are too weak to be of any strategic importance while at best DAP can win 45 parliament seats, tops. So they need PKR to deliver the balance of the seats. And that would make PKR too important and, hence, too strong for the good of DAP.
So, while Mahathir may control PKR through Azmin once he takes over from Wan Azizah, Kit Siang needs to counter-balance that by controlling at least the other half of PKR. And that other half would be the faction led by the person who hates Azmin the most, Saifuddin Nasution. So that means DAP would now 'share' PKR with Mahathir.
Kit Siang played Mahathir well by appointing Saifuddin as Guan Eng's strategic advisor and hence now controls half of PKR
In the end, Saifuddin would be reduced to just another Mat Sabu, a DAP running dog. And Saifuddin does have a history of serving other masters when he does not get what he wants, such as from 2008 to 2010.
The next thing that is gong to happen is DAP will give Saifuddin the parliament seat of Permatang Pauh to contest since Anwar is going to remain in jail till after the next general election. That would totally wipe out Anwar's influence in Penang. Saifuddin would also be given a state seat in Selangor to contest so that if DAP wins the most number of seats in Selangor, as they expect to, the party can take over the post of Menteri Besar.
Currently DAP does not have any candidate for Selangor Menteri Besar and even if the party fields a Malay candidate there is no guarantee HRH the Sultan would accept DAP's Malay candidate as the Selangor Menteri Besar. Therefore, to be safe, DAP will push for Saifuddin to become the Selangor Menteri Besar. So, indirectly, DAP would be in charge of Selangor like they were back in 2008 in Perak.
DAP knows that any Malay candidate from the party would still be seen as a Chinese tool or Chinese running dog. DAP hopes that a Malay candidate from PKR, although 'DAP-friendly', would not be viewed the same, especially since this Malay used to be in Umno and then PKR and then PAS, like Saifuddin was.
Guan Eng appoints Saifuddin as his strategic advisor
(The Star) – Penang Chief Minister Lim Guan Eng has appointed Datuk Saifuddin Nasution as his strategic advisor on Tuesday.
In a Facebook post, Lim, the DAP secretary-general, announced the appointment of Saifuddin as well as 10 other new local councillors.
His appointment was witnessed by Lim, who was accompanied by state secretary Datuk Seri Farizan Darus, state exco members and other state officials.
Lim also posted several photos of Saifuddin, who is also PKR secretary-general, taken during the swearing-in ceremony.
Raja Petra Kamarudin
– http://www.malaysia-today.net/
.