ASIA STOCKS MIXED, EURO REBOUNDS, BITCOIN RECOVERS
Asian stocks were mixed in trading thinned by year-end holidays. Japanese benchmarks slipped from the highest levels since the early 1990s, while China's currency reached its strongest since September.
U.S. equity-index futures opened little changed in their first trading this week. Taiwanese stocks underperformed as suppliers to Apple Inc. in wake of analysts marking down their iPhone X sales estimates. Australia and Hong Kong markets remained shut Tuesday.
The euro was trading little changed against the dollar, and at similar levels to the end of last week, after briefly sliding on Monday. Dramatic moves have occurred in recent years in the currency and other markets at times of low liquidity, when automated trading programs can sometimes be a contributing factor. Read more here about flash crashes in currencies.
Bitcoin jumped about 11 percent to $15,249, after declining for most of the past week since reaching a record high above $19,000. The tumble had coincided with several warnings from financial authorities about elevated risk in holding digital coins.
Oil was trading above $58 a barrel, while commodities traded in China ticked lower on inventory-buildup concerns.
Terminal subscribers can read our Markets Live blog.
Among the events in focus for investors this week:
U.S. consumer confidence, home prices and trade data are on tap.
Vietnam, which has been averaging around 6 percent growth, reports fourth-quarter GDP.
Italy's parliament is expected to be dissolved ahead of elections in 2018.
These are the main moves in markets:
Stocks
The Topix index of Japanese stocks fell 0.3 percent at the close in Tokyo, while the Nikkei 225 Stock Average slipped 0.2 percent. Investors had little reaction to Japanese data showing a drop in unemployment and slight acceleration in inflation.
Futures on the S&P 500 Index were little changed after the underlying gauge advanced for a fifth week last week.
China's Shanghai Composite index was up 0.4 percent.
South Korea's Kospi index slid 0.3 percent, while Taiwan's TAIEX dropped 1 percent.
Currencies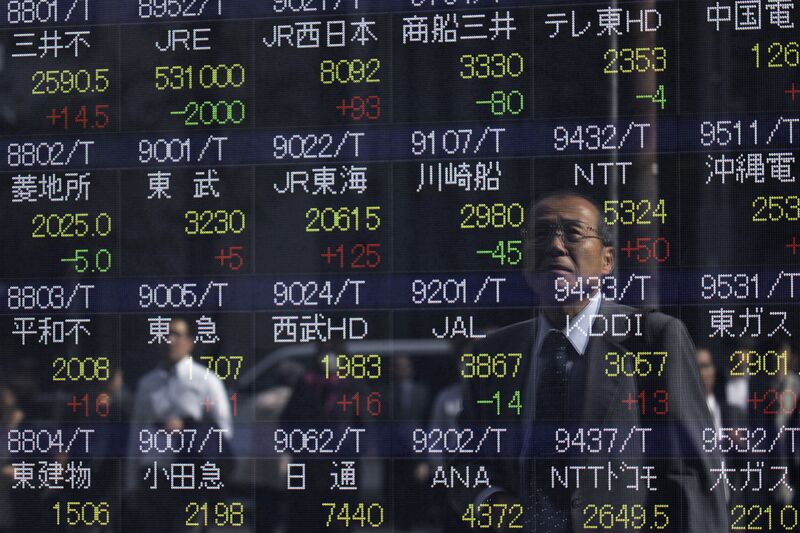 The euro was little changed at $1.1869.
The British pound was little changed at $1.3373.
The Japanese yen was little changed at 113.29 per dollar.
The People's Bank of China raised the yuan fixing by 0.21 percent, to 6.5683 per dollar, the strongest since Sept. 20.
Bonds
Ten-year U.S. Treasury yields were at 2.49 percent, around the highest since March.
Commodities
West Texas Intermediate crude was little changed at $58.51 a barrel.
Gold rose 0.4 percent $1,278.65 an ounce.
Iron ore futures traded in Dalian, China, were down 3.9 percent.
Aluminum futures traded in Shanghai fell 1.7 percent.
– https://www.bloomberg.com
.