AS NAJIB INTENSIFIES HARDLINE MUSLIM ACTS TO SPLIT THE RACES, MAHATHIR ATTENDS PRAYERS TO FREE ANWAR, SAVE MALAYSIA
When Anwar Ibrahim was sent to jail in 1999 the man his supporters blamed was then-premier Dr Mahathir Mohamad, who was accused of masterminding the charges against his former deputy.
Eighteen years later, however, much has changed. Mahathir today joined a congregation in Bandar Baru Bangi who performed solat hajat (intercessory prayer) seeking divine intervention to free Anwar, who is serving another prison term.
In a tazkirah (sermon) after the prayer, Mahathir said that Anwar's freedom can be secured through a change in government.
"If we want to free Anwar are we going to storm the prison and open the locks to get him out? Of course not.
"But if we change the government, one that is more sympathetic to Anwar, he will be freed," Mahathir said.
He added that God helps those who help themselves, and that effort must be put in if one wants to seek divine aid.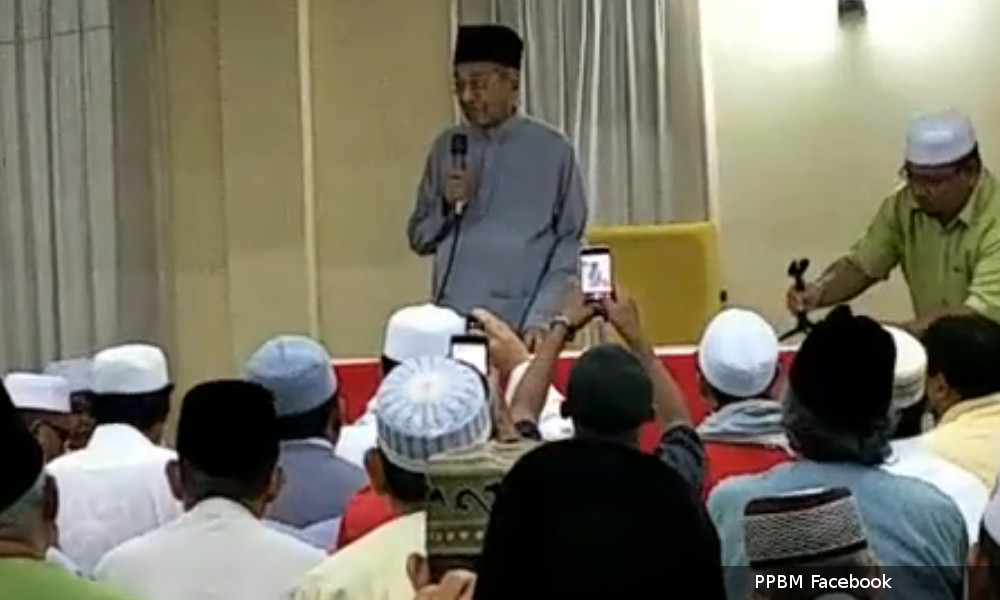 The solat hajat session was organised by the Ulum Munawwarah academy. Besides freeing Anwar, the special prayer was also to sought divine aid to save the country.
Anwar and Mahathir are now on the same side, serving as Pakatan Harapan de facto leader and chairperson respectively.
Mahathir said the two political titans have buried the hatchet, not long after an iconic reunion at the Kuala Lumpur High Court last September.
Prior to Mahathir's 40-minute long lecture, Anwar's wife PKR president Dr Wan Azizah Wan Ismail read out a message from the incarcerated leader, urging those in attendance to set aside petty differences and to stand united in their challenges.
– M'kini
.