ANWAR'S DAUGHTER TAKES A SWIPE AT BOTH AZMIN & HADI: DON'T BLOCK GRASSROOTS' DEMOCRATIC RIGHT TO A SPECIAL CONGRESS & DON'T BE SWAYED BY THE RULING ELITE
PKR vice president Nurul Izzah Anwar, often referred to as the princess of the reformasi movement, tonight weighed into the debate within PKR about entering into an electoral negotiations with PAS.
The debate between those for and against the negotiations had seen lengthy essays written, insults hurled, a PKR Youth leader ousted as well party grassroots exerting pressure.
In the absence of Nurul Izzah's father Anwar Ibrahim, who is PKR de facto chief and had in the past skillfully kept feuding leaders in check, the quarrel had brought to fore fissures within the PKR.
Nurul Izzah in a statement tonight said there was "much to read" about the ongoing deliberations and lauded it as an example of "vibrant democracy" within the party.
The debate boiled down to whether PKR should resign to the fact that three-cornered fights against PAS and BN was inevitable and should instead focus on Pakatan Harapan, or, whether PKR should try to convince PAS to the very end on an electoral pact, albeit the repeated cold shoulders from PAS and possibly hurting Harapan's electoral preparations.
"There are many unknowns as we approach elections, as election director I can say we have reviewed multiple models and scenarios in central election committee (JPRP) and know that we must be reasoned and dispassionate in our evaluation of one set of data alone to make conclusive decisions," said Nurul Izzah.
However, Nurul Izzah emphasised that the decision made should not violate the principles of PKR and Harapan.
"Clearly, in these challenging times, I strongly encourage full participation of all leaders in the political bureau; to fully utilise the process and existing platform to raise and resolve issues.
"Conversely, all leaders must also respect the consensus of party members for a party congress to be held if desired, predicated on the conditions being fulfilled," she said.
Nonetheless, Nurul Izzah also stressed the importance of prioritising in the face of impending elections.
"In this special time of Zulhijjah, I call on all opposed to injustice and corruption to fight against any disunity by taking the higher road, by forgiving others and claiming our words and actions to do what is best for the rakyat and the mission of PKR and Harapan in bringing fruition to justice and hope to Malaysians," she said.
 Nurul Izzah also appeared to respond to PAS' accusation that PKR was 
"begging"
 for its support, though she did not name the party.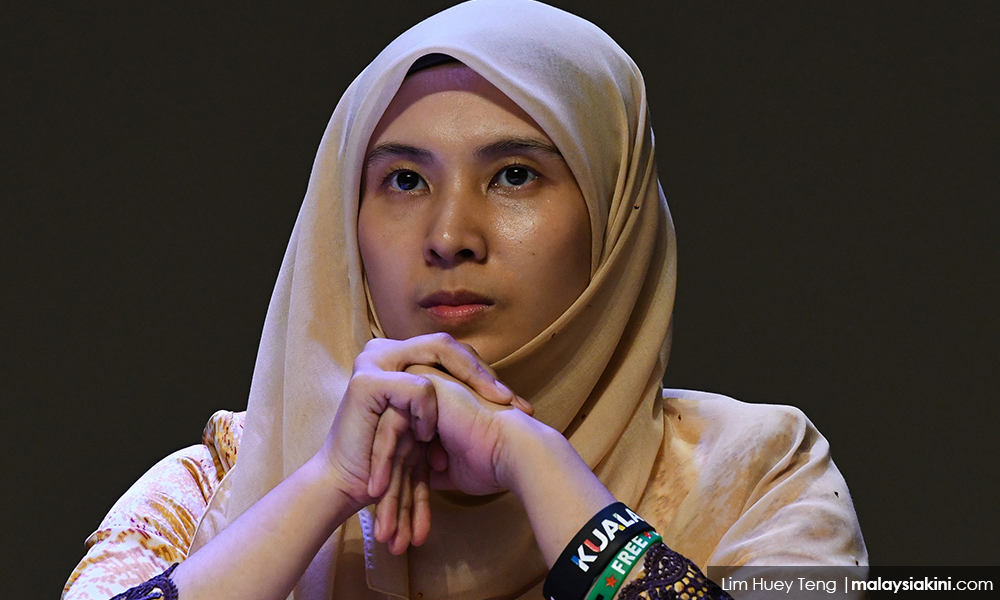 "On the recent topic of 'begging' for support. Speaking for myself, I beg for this: whoever hates the stealing of wealth from the poor, whoever hates the taking of the rights of the voiceless… I beg you to stand together with us for justice and defeat the kleptocracy of BN in GE14," she said.
Nurul Izzah called on the heads of all parties to fulfil their roles of leadership as champions of reform and justice for all Malaysians.
"If their leaders are swayed by the ruling elite, I call on the right thinking members of all parties to stand for what is best and good and honest and clean – with justice, wisdom and excellence," she said, without referring to any specific party.
– M'kini
.