ALREADY NECK DEEP IN HIS NEPHEW'S GRAFT CASE, AZMIN STILL WANTS TO PUT HARAPAN AT RISK BY BLOCKING DR M, AZIZAH FOR PM, DPM POST: SAIFUDDIN ABDULLAH, PART OF AZMIN CAMP, WANTS DISCUSSION ON 'YOUNGER' CANDIDATES
While Pakatan Harapan may have proposed the "Mahathir-Anwar" leadership combination ahead of the next general election, there may be several permutations to this formula.
In a Facebook post today, Harapan chief secretary Saifuddin Abdullah said there are two "youth groups" that back Dr Mahathir Mohamad and Anwar Ibrahim respectively.
"Combining the two groups and (producing) a Dr M-Anwar combination is important. The Dr M-Anwar combination is also important to attract support from women.
"Both youths and women have been sharing photos of Mahathir and Anwar in court, along with photographs of (their respective wives) Dr Siti Hasmah Mohamad Ali and Dr Wan Azizah Wan Ismail (photo). We need to think about this.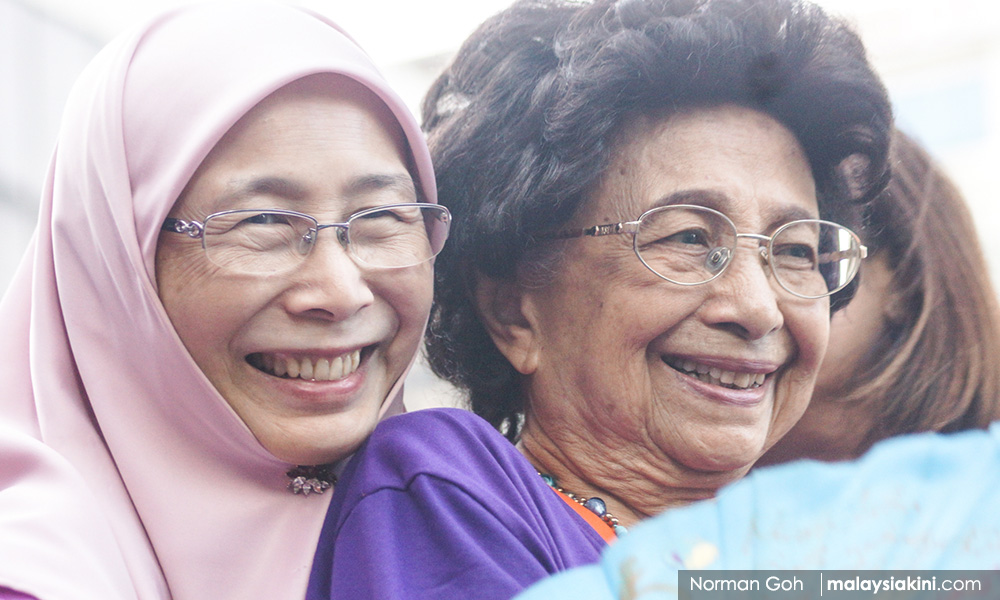 "Mahathir is also important (for Harapan) to convince Malays in rural areas and Umno supporters to back Harapan," Saifuddin said.
After establishing his argument of why the Dr M-Anwar combination was a necessity for Harapan, Saifuddin said "other candidates" could still make the combination viable.
"What about other candidates who are younger and can maintain the Dr M-Anwar combination? That can be discussed," he said.
When contacted, Saifuddin declined to elaborate further and stressed that he was expressing his views in his personal capacity.
It is believed that Saifuddin was referring to the Harapan leadership's recent proposal for Mahathir to be named as the coalition's prime ministerial candidate and Wan Azizah as his running mate.
The proposal was discussed during Harapan's recent two-day leadership retreat.
According to PKR political bureau member Johari Abdul, the proposal would still need Anwar's approval.
Anwar is currently serving a jail sentence. It is understood that the proposal will be on the agenda when PKR leaders meet this week.
Several political analysts have told Malaysiakini that Harapan would likely name Mahathir as their prime ministerial candidate because this would make the coalition more palatable to Malay voters.
– M'kini
.