ALMOST ATTACKED BY ROWDY MUSLIM GROUPS, SARAWAK CHURCH LEADERS SEE FOR THEMSELVES WHAT SORT OF FUTURE LIES IN STORE FOR CHRISTIANS IN A MALAYSIA RULED BY BIGOTRY-DRIVEN NAJIB REGIME
Archbishop of Kuching Archdiocese Simon Poh was heckled as he walked out of the Federal Court in Kuching after the delivery of a high-profile decision.
Earlier, the Federal Court ruled that four individuals who wanted to nullify their status as Muslims cannot do so through the civil courts and must go to the Syariah Court.
Sarawak Christian leaders were present for the case as well as hundreds of supporters from Muslim groups.
Following the delivery of the decision, the supporters broke into chants of "Allahuakbar" (God is great).
Some supporters trailed Poh as he left the courthouse and continued chanting. Other Muslims leaders were more diplomatic as they approached and hugged him.
However, a group continued to follow Poh outside the courthouse, where the situation became tense.
He was eventually led to a corner and police's Light Strike Force personnel separated the crowd from him.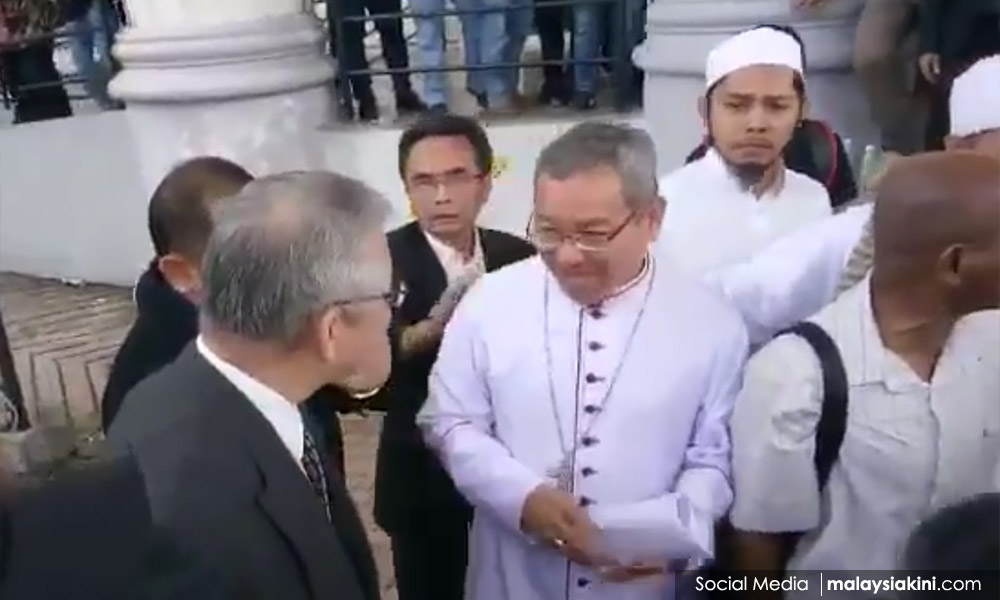 After getting to safety, Poh (photo) described the heckling as an isolated incident.
"I am not rattled about this, I think there were many people around to make sure that I am okay," he was quoted as saying by Borneo Post.
Poh emphasised the need to maintain harmony in Sarawak.
"The Muslim authority has been very kind – those who are helping me to make sure I am here.
"I was with IIC's (Islamic Information Centre) Zabariah (Matali) and he said 'we work together, we are friends still' and I think that is important.
"In Sarawak, we work as friends. We maintain the harmony of our state. Let us not allow emotions to overcome everything and I am sure the state authority (including) the chief minister is watching.
"We will do our best to work towards harmony – to rebuild the harmony. I think it was just an isolated incident and I think (for) the majority of people, we are still friends," he said.
Church respects apex court decision 
Poh said the Catholic Church respected today's decision as it came from the apex court.
Simon, in a message to friends later, assured that he was fine and thanked those who had escorted him to safety.
"As the Muslim groups become rowdier and louder (as you can see in the video) a group of Muslims and others escorted me safely (to) my vehicle pick-up at (the) roadside," he said.
Kuching district police chief Abang Ahmad Abang Julai, when contacted, told Malaysiakini that the archbishop was not hurt.
He also denied claims on Facebook that the archbishop was attacked.
"The police provided the necessary security at the scene because there was a big crowd," Abang Ahmad said.
– ttps://www.malaysiakini.com
.