AFTER ZAHID'S 'FLOODS A SLAP FROM GOD TO PENANGITES', GERAKAN DARE NOT SAY HOW MANY SEATS IT WANTS TO WIN: IN BIGGEST HUMILIATION, LESS THAN A HUNDRED TURNED UP TO HEAR MAH & CO SPEAK
Deputy Prime Minister Ahmad Zahid Hamidi's "sign from God" remark about the recent Penang floods is only meant as a caution against overdevelopment, according to Gerakan president Mah Siew Keong.
"I interpret this as: we have to take care of the environment and nature. So, if we don't take care of the environment and nature, nature will have a reaction.
"(This is) not only in Penang, but anywhere in the world. So, we must always look after the environment and prevent overdevelopment," Mah told a press conference today after Gerakan's national delegates' conference in Kuala Lumpur.
He was asked whether he condoned the statement from Zahid at the conference, when the deputy prime minister said that the floods that hit Penang last week were a "sign from God" that Penang is ripe for the taking.
"It is not impossible. It can be done. God smote those who thumped their chest claiming that Penang is free from floods.
"What happened is a sign from God that this is the best time for us to retake the Penang government," Zahid had said.
The floods that hit Penang on Saturday last week left seven people dead.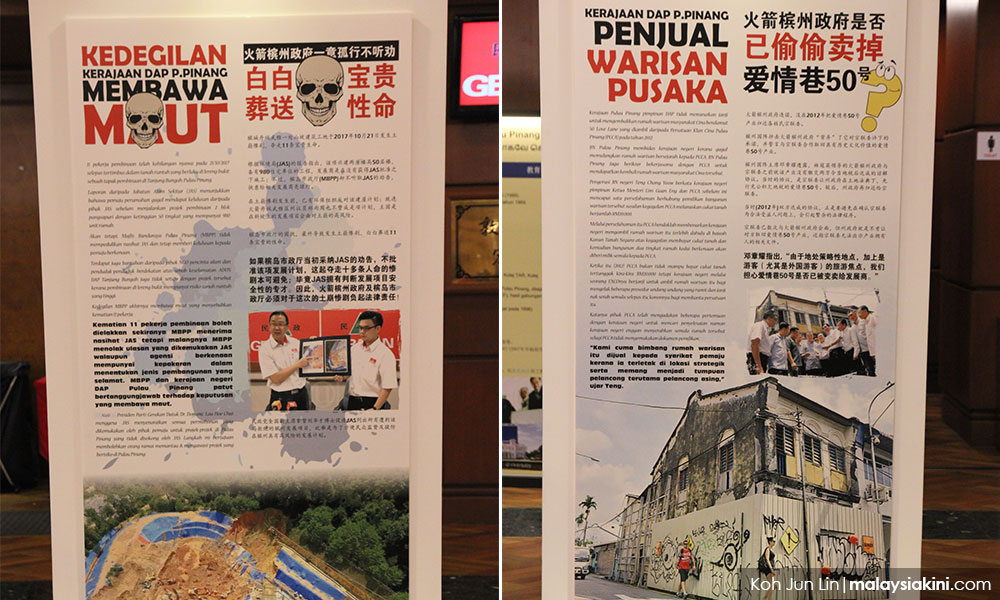 Meanwhile, in the wrap-up speeches of the conference, Gerakan vice-president Dominic Lau told DAP secretary-general Lim Guan Eng not to play the victim card, but thank the Registrar of Societies instead.
Referring to the DAP re-election that is being held in Shah Alam today, he claimed that it has enabled Lim to stay on in his post.
He added that if DAP felt that the RoS was wrong to order the party to conduct a re-election for the second time, then it should take legal action against them.
"They say they are holding the re-election under protest. But if you are protesting, it means you feel that you are right. If you are right, there is no need to comply (with the RoS orders).
"Just take legal action against the RoS. Won't that be better? Isn't that your style anyway?" he said.
From zero, Gerakan eyes more representation in Penang
MEANWHILE, according to Malay Mail:
KUALA LUMPUR— Gerakan said today that it aims to get more state seats in Penang in the 14th general election, after failing to win a single seat there in the last polls.
Gerakan president Datuk Seri Mah Siew Keong has a wish for the 14th general election and that is to see more members from his party participating the Penang state assembly.
Addressing the press after wrapping the 46th national delegates conference today, Gerakan president Datuk Seri Mah Siew Keong said his party hopes to have more members in the state legislative assembly to ensure check and balance in the DAP-led state.
"At the moment, Gerakan has zero representation in Penang.
"But, we are confident that we will have more members in the state government after GE14," he said.
Mah, however, refused to disclose information about seats Gerakan members were eyeing or whether he would contest in Penang.
In his winding up speech, Mah said the party's youth president and deputy, including the top two in the youth women's wing, will most likely be candidates in GE14.
"But I'm disappointed that they (the candidates) are not here at the Dewan (hall) now… maybe they went to start work at their respective areas…maybe, who knows," he said.
Not more than 100 delegates were seen in the hall when Mah was delivering his speech.
The hall was catered to sit about 1,000 delegates.
MKINI / MALAY MAIL
.