A 'CLEAN' WARNING TO 'DIRTY' NAJIB: 'WE ARE HERE FOR THE LONG HAUL' – BERSIH LOOKS FOR FUNDS TO SUSTAIN OPS 'OVER & BEYOND' GE14
Electoral reform coalition Bersih 2.0 has made an urgent request to raise RM500,000 in public donations over the next four months.
Bersih 2.0 chairperson Maria Chin Abdullah said the funds are needed to sustain its operations leading up to and beyond the next 14th general elections.
"This is the time we need financial support to make sure we are not running from elections to elections.
"Bersih is definitely in it for the long haul," Maria told a press conference at Bersih 2.0's office in Petaling Jaya today.
From the amount, she said an estimated RM100,000 will go towards covering legal costs for 120 ongoing investigations under the Peaceful Assembly Act (PAA) 2012 and Section 124(c) of the Penal Code for involvement in activities detrimental to parliamentary democracy.
"A fine under the PAA can go up to RM10,000," she said, adding that Bersih 2.0 recently had to post bail of RM3,000 for one its volunteers in Taiping, Perak.
She further said that the  investigations under PAA dated back to the pre-Bersih 5 nationwide convoys last year, as well as for participation in solidarity gatherings held during her arrest and detention under the Security Offences (Special Measures) Act 2012.
Aside from cases against Bersih 2.0, Maria said the coalition is also supporting nine election-related court cases, involving challenges against the Election Commission's ongoing redelineation exercise.
"We need your support to continue driving this. While lawyers are doing the work pro-bono, Bersih 2.0 has to cover cost for disbursements, research and transport," she said.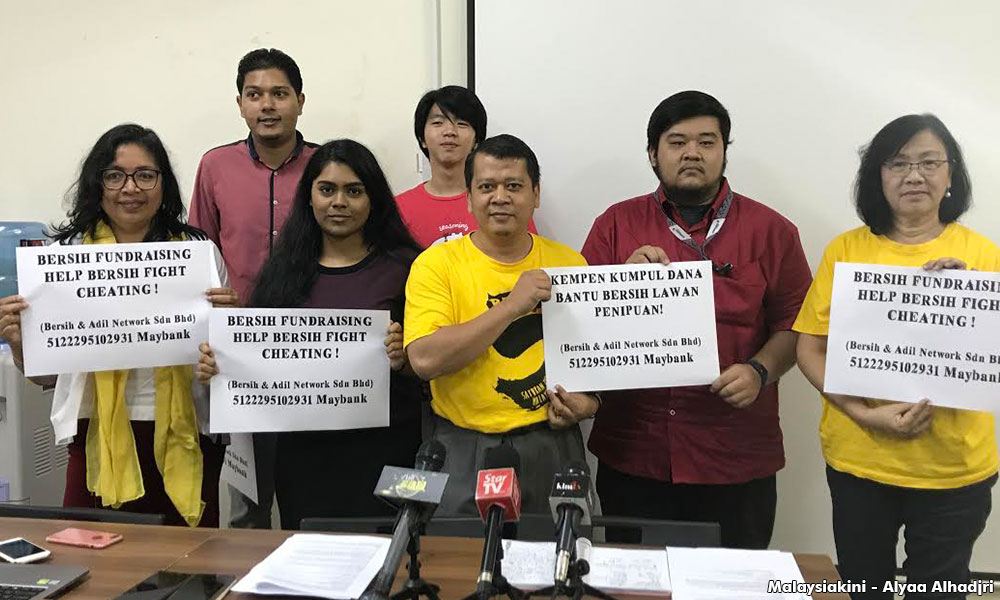 On top of legal costs, Maria said Bersih 2.0 will continue with its voters education programmes as well as the Pemantau election monitoring initiative, ahead of GE14.
With its existing funds of about RM500,000, Maria said Bersih 2.0 can only cover its basic operations costs – involving RM35,000 in monthly overheads – for another seven months.
In the past, she added that the bulk of Bersih's expenditures had gone towards organising its rallies.
Global Bersih steering committee member Ivy Josiah, who is also heading Bersih 2.0's fundraising committee, meanwhile, pointed out that the coalition has been around for 10 years and it intends to continue pursuing electoral reforms beyond the next general election.
"Seven months is a red flag moment. That's why I'm wearing red today," she quipped.
'Bersih 2.0 not just to keep gov't in line'
Bersih 2.0 regional coordinator (central) Jay Jay Denis, meanwhile, noted that now may not be the best time to seek public funds as the people are becoming increasingly frustrated with both the Barisan Nasional federal government and Pakatan Harapan federal opposition.
At the same time, he urged the people to not lose hope, stressing that Bersih 2.0's role is not to only keep the government in line but also the opposition.
"Your time, effort and hopefully your finances is important for Bersih," he said.
Also present during the press conference was Bersih 2.0 deputy chairperson Shahrul Aman Mohd Saari.
Those who wish to help can channel their funds to Bersih & Adil Network Sdn Bhd, at Maybank account number 512295102931.
– M'kini
.