FINANCIAL CRISIS IS IN THE AIR: THE BEAR SPOTTED IN MAJOR MARKETS, 'THEMATIC PLAY' MALAYSIA WILL STAY VOLATILE
However a detailed study indicates it is more of a market correction
MANY are thinking that a crisis could be looming, and from the onset, it would certainly look that way.
Firstly and most obviously, there is the trade war where US President Donald Trump appears intent on disabling as much free trade as he can with China. This has now snowballed to include developed countries like Europe and Canada. The restriction of the free movement of goods could ultimately have a huge impact on global trade and surely slash off economic growth.
Then there is the dreaded yield curve – which hasn't quite yet inverted, but has started to flatten. As we all know, since the 1950s, inverted yield curves have always been followed by recessions. Most investors are aware of this, and hence feel that the flattening curve is a strong signal of doom on the horizon.
Thirdly, there is the less sophisticated argument – financial markets move in cycles of tens. Our last global financial crisis was in 2008, incepted by the US subprime market. Surely after 10 years of the good bull running, it must come to a halt. Strengthening this bias is the fact that the market has been in a tailspin since January this year. So could this be a precursor of a bigger fall.
Then of course there is the Chinese market, which is already in bear territory. Could the crisis be caused by the shadowy Chinese economy?
The market is said to move six months ahead of the economy. The economy is then screaming for a massive bear to emerge soon. Year to date, the Shanghai Composite Index is down 20% on fears ranging from the trade war, to a hard landing to shadow banking fears.
Yesterday US tariffs on Chinese goods finally took effect.
The Trump administration's 25% tariffs are targeting Chinese products such as industrial machinery, medical devices and auto parts. China accused the United States of starting "the biggest trade war in economic history".
Beijing has said previously it would fire back against an equal value of US exports, including SUVs, meat and seafood.
Now even before Friday, the trade dispute between the world's top two economies had sent markets into a tailspin, and prompted caution from companies of loss to their bottom lines and higher prices for consumers.
Over the last few weeks, the US and China have both been exchanging barbs – rhetorically retaliating with tariffs in the billions on their respective countries goods. Global markets have been sold down on fears that the free movement of capital will be halted and hence cause serious repercussions to the world economy.
Apart from the US$34bil worth of tariffs, Trump is also considering slapping a 10% tariff on an additional US$200bil of Chinese imports, and even more if Beijing hits back. He's already imposed tariffs on the steel exports of some countries and is eyeing a 20% levy on car shipments from the European Union.
Bloomberg Economics reckons the looming US tariffs on US$50bil of Chinese imports and a like-for-like retaliation from Beijing could cost China about 0.2 percentage point of gross domestic product and the US a little less, a manageable amount in both instances.
Fisher Investments MarketMinder says that amid the drumbeat of new duties, it has one word of advice: Scale! The number of announcements or dollar value of the goods affected isn't as important as the tariffs' actual economic impact.
It added that the tariffs between the US and China, both currently imposed and threatened, amount to less than 0.4% of the countries' combined 2016 GDP.
"This may even be less since affected businesses can frequently find buyers and sellers in countries the levies don't reach. While we don't discount the potential negative impact tariffs will have on specific businesses and industries, they are a far cry from a trade war that could wallop the global expansion and kill this bull market," says Fisher Investments MarketMinder.
In his equity strategy outlook, Maybank Research head Wong Chew Hann says a full-blown global trade war is not fully priced-in, and neither is it in its base-case scenario.
"That said, rhetorics will continue (as tactic for negotiation) inviting counter-retaliation. These noises will continue to destabilise markets," says Wong.
The yield curve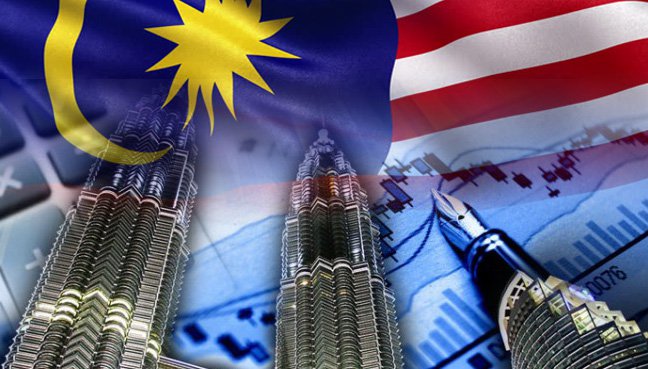 When plotted, the yield curve shows the return on US government debt of different maturity lengths, they range from one-month Treasury bills to 10-year Treasury notes to 30-year Treasury bonds.
In a healthy yield curve, that long-term debt has higher returns than the short-term debt. That essentially shows that investors can be more certain about what prices and economic growth will look like in the short term. It also shows the government's ability to pay back its debts over the long term.
Now when investors are uncertain about the near term, that yield curve will flip over upside down. This is the much undesired "inverted yield curve." Right now, the curve is flattening, but it hasn't yet inverted.
As can be seen in the chart, the yield curve hasn't inverted, but is indeed flattening. It's worth mentioning that in December 2006, a year before a historic recession, there were already signs of duress in the markets, and the yield curve was already quite inverted.
Andrew Van Dam in his article in the Washington Post pointed out that an inverted yield curve had preceded every recession since 1960. In all that time, there's been only one false alarm, in the mid-1960s.
Right now, it says that the yield on the 10-year Treasury note is within less than a percentage point of the yield on the three-month bill, according to a popular measure from the Federal Reserve Bank of New York. The article said when the yield curve hits the brown zone – which is full inversion – there will be cause for concern.
For now, there's wriggle room.
"The yield curve doesn't always invert when it gets this flat. In the 1990s, during the longest economic expansion on record, the yield curve dropped to its current level or below without inverting on several occasions. When it did invert in July 2000, recession was less than a year away," said Van Dam.
Now this is an important reminder because it shows that when the yield curve does invert, it does not signal immediate destruction.
"In the past 60 years, inversions have happened anywhere from five (1959) to 17 (2006) months before a downturn. And the false-alarm inversion in 1966 happened a full four years before a true recession arrived," he pointed out.
He added that on average, it's taken 16 months to go from the current level to inversion, and about 11 months to go from inversion to recession. Thus, he feels it seems safer to assume the economy will keep growing for at least another year, at which point this expansion will catch the 1990s as the longest run on record.
Chinese bear markets
Shanghai's benchmark stock index has plunged to its lowest level in two years, driving Asia's largest equity bourse down into official bear market territory, as concerns about a trade war with the United States sent investors scurrying for shelter.
The South China Morning post reported that Chinese stocks have lost about US$1.6 trillion in total value – more than the size of Canada's entire economy – since a high in January. This 20% fall officially marks the bourse as a bear market. Should it lose another 6%, it will lose its title as largest stock market in Asia to Japan.
Fisher Investments MarketMinder says that the Chinese market is slightly different from other markets.
While most developed-world stock markets function as forward-looking economic indicators, Chinese stocks don't. This is now the fourth "bear market" in Chinese stocks since 2009 – yet the economy has grown uninterrupted throughout.
Why is this so?
Well, thanks to strict limits on foreign investment, most participants in Chinese markets are domestic. Since authorities tightly control information, domestically traded Chinese stocks frequently behave very differently from global or even other emerging market stocks, hence they aren't as telling about broader economic conditions.
"While it is certainly possible investors are fretting over the Chinese government's crackdown on shadow banking and the possibility of a US-China trade war, we don't think either of these fears lives up to the hype presently."
"Whether domestic Chinese markets recover soon or slide some more, we don't think they signal an economic "hard landing" ahead for China, let alone the global expansion," says Fisher Investments MarketMinder.
Earnings in the US to remain strong
With the bull market still more on less intact despite the volatility since January 2018, investors are now fretting particularly with a strong first quarter earnings season in the US.
Corporate earnings rose 19.5% in the first quarter of 2011, according to FactSet. A lot of this was due to a lower corporate tax rate boosting the bottomline of companies. This first quarter marks the best growth recorded since 2011.
This is one of the most widely anticipated earnings seasons in recent memory as investors expect a lower corporate tax rate to have boosted the bottom line for companies.
According to FactSet, earnings growth is expected at 19.1% in the second quarter, 20.8% in the third and 17% in the fourth, for a full year growth rate of 18.4%.
As for 2019 though, earnings are expected to grow only in the single to low double-digit range.
Fisher Investments MarketMinder says that even then, these are still strong, double-digit growth rates for the rest of the year.
"Bull markets typically see earnings growth ebb and flow, and this bull has already seen several earnings slowdowns to single digits and below. Even a couple negative quarters in early 2016, when energy sector earnings plummeted as oil prices cratered, didn't stop the bull," it says.
More importantly it adds, stocks look forward, not backward.
"They are moving on what earnings appear likely to be in the next 3 to 30 months, not last quarter or even this quarter. However, with headlines fretting over earnings' growth pace, it signals sentiment isn't close to euphoric, in our view – a bullish positive," says Fisher Investments MarketMinder.
Malaysia – thematic for the moment
Meanwhile for Malaysia, Wong expects investors to remain in a holding position, pending clarity on longer term government's policy direction and re-assurance on the government's fiscal position especially beyond 2018.
"We expect more clarity in Budget 2019 on Nov 2. Over the near term, we expect foreign net sell of Malaysian equities to continue, but at a tapered pace. This implies that there is still downside risk for Malaysian equities, but small, barring a major external event that could trigger a massive fund outflow from this region and emerging markets," he says.
On balance though, Wong's observation is that the new government has shown strong commitment in strengthening the finances it inherited and in stepping up on governance, accountability and transparency. He expects this to lift investors' confidence over time.
"We would not be surprised on foreign flows turning positive again, after Budget 2019 realistically reassures on the country's macro growth and addresses the government's fiscal target. Following that, prudent economic management should see long-term investors returning," he says.
As for Malaysia's market direction, having considered the external risk factors and the domestic factors, Wong has revised down his target to 1,750 as he re-pegs valuation back to its long-term mean of 15.6 times (x) 12 month forward price earnings ratio (previously 16x). This is also the lower end of the FBM KLCI's past five-year valuation range.
"We expect range-bound trading for most of the second half of 2018, and optimism from Budget 2019 to drive the FBM KLCI higher in the last two months.
"Thus the equity strategy is thematic. With volatility to remain dominant, we recommend a trading strategy for most of the second half of 2018, with bottom-up stock picking (on dips) as long-term investment strategy. Thematic will centre around regulatory risk, which have been substantially priced-in for many of the sectors or stocks affected, but their share prices may have further downside tendency as the details are announced, thus offering better buying opportunity then," he says.
Other thematic plays are sectors or stocks with strong earnings growth potential as funds repositioned out from sectors temporarily impacted by the new government's GE14 manifesto.
Sector weights
From a top-down fundamental perspective, Maybank stays positive on Oil & Gas and Automotive.
Elsewhere, while there are headwinds, it remains positive on Technology due to developed markets' transition into 5G cellular and dollar-content growth, and Gaming (casino) due to added capacity and more visitors expectations.
From a bottom-up (valuation) perspective, Maybank is positive on Aviation as the market has overpriced the fears of rising fuel prices and policy uncertainty.
Elsewhere, it remains selective on banks as it continue to see values in the smaller banks, and property whose valuations have fallen much.
– ANN
.