MAHATHIR TO STOP KHAZANAH FROM 'DOING ALL KINDS OF FUNNY THINGS': INSTEAD OF 'UNSOUND' INVESTMENTS, FUND TO GO BACK TO ROOTS OF INVESTING FOR MALAYS & INDIGENOUS CITIZENS – PM
KHAZANAH Nasional Bhd made "funny" business decisions, which made it lose sight of its original mission, Dr Mahathir Mohamad said today.
Khazanah was making unsound investments instead of contributing to the Bumiputera economy, the prime minister said.
"It is quite obvious they are doing all kinds of funny things like buying houses and taking over companies.
"Khazanah was initially formed to buy up shares allocated to Bumiputerasbecause Bumiputeras, when they buy, they sell immediately to others," Dr Mahathir said in a press conference at Perdana Leadership Foundation.
"To stop them (Bumiputeras) from doing that, we formed Khazanah. Now, they seem to be taking up all shares, all on their own, whether they are meant for Bumiputeras or not.
"So, maybe it should go back to its original purpose," he said.
As at December 2017, Khazanah had realisable asset value (RAV) of RM157.2 billion while its net worth adjusted (NWA) was RM115.6 billion.
In its election manifesto, Pakatan Harapan, which Dr Mahathir leads, pledged to make government-linked companies a key component in increasing Bumiputera participation in the stock market.
The PH administration is reviewing all the shares Khazanah owns with a view towards re-orientating the fund to its original function – to hold equity on behalf of Bumiputeras.
"We will categorise (the shares) into ones that are profitable, ones that are possibly profitable and ones that are losing.
"We need to get rid of some of these companies to reduce their number and, to a certain extent, go back to (Khazanah's) original intention of holding the shares allocated for Bumiputeras until such a time as they can buy them," Dr Mahathir had said in an interview with Investzine. – https://www.themalaysianinsight.com
Dr M aims to return Khazanah to 'help bumiputera' track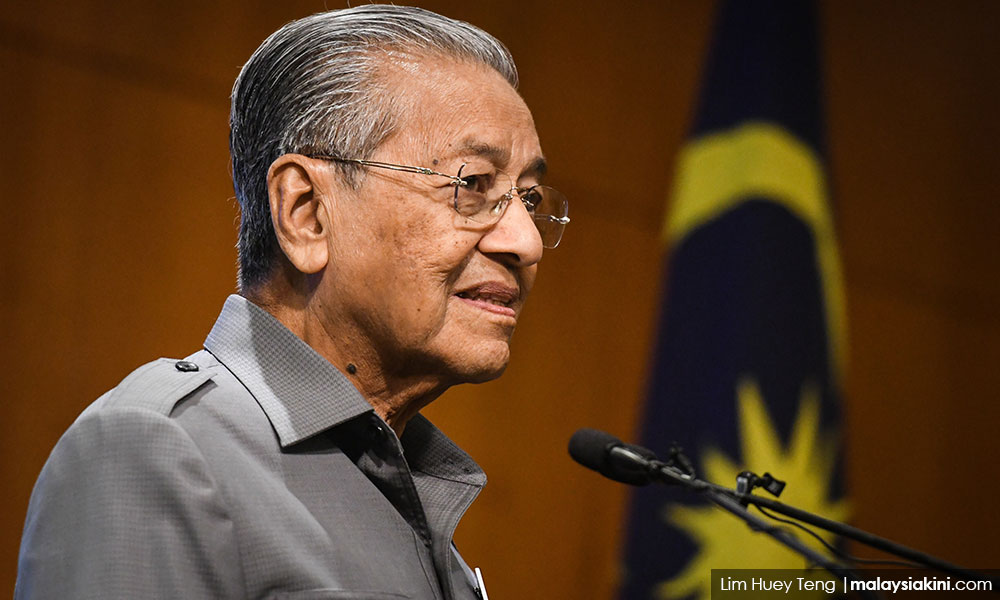 Sovereign wealth fund Khazanah Nasional has deviated from its original objective of helping the bumiputera, according to Prime Minister Dr Mahathir Mohamad.
In an interview with business website Investvine, he also vowed to put an end to the high salaries for the heads of government-linked companies (GLCs).
Speaking on Khazanah which was established in 1993 during his first tenure as prime minister, Mahathir said the firm was formed to hold shares for the bumiputera until the latter possessed the capacity to purchase those shares.
He said this was because the bumiputera who received shares had the tendency of selling them and enriching others instead.
"But along the way, Khazanah decided it should take all the shares for itself and if they are good shares well why not acquire the shares at the time of listing when the price of shares was very low and so they forget entirely about holding the shares for the bumiputra.
"They decided that they should be holding the shares forever as a part of the government companies owned by the government," he added.
Mahathir said Putrajaya would review the companies in which Khazanah has a stake in and sort matters to return the wealth fund to its original path.
"We need to agree with some of these companies to reduce the number (of shares held by Khazanah) and to a certain extent go back to the original intention of holding the shares allocated to the bumiputera until such time when they can buy (them)," he added.
As for GLCs, Mahathir said political appointees raking in high salaries would no longer head these firms.
"The salaries of these people (political appointees) are very high and they enjoy these high salaries without bothering whether the company makes a profit or not.
"We, on the other hand, want to put in professionals; and their salaries will not be very high. It may be slightly higher than civil service salaries, but if they perform then we will pay them bonus.
"If they don't perform they won't get the high income that they are getting now and we will change the management so that we appoint professionals whether they are party people or not. It doesn't matter, but they must be professionals conversant with the business of the company," he said.- M'kini
THE MALAYSIAN INSIGHT / MKINI
.